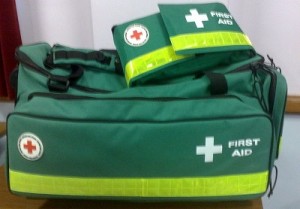 The recent hurricanes, in particular Hurricane Katrina, have left much devastation and wrecked lives and that includes pets. As people have scrambled to care for themselves and try to start rebuilding their lives, the animals have been left in the lurch because they are considered in most cases, expendable property. That is not to say that most of the displaced people do not love their animals, they just have much greater concerns at this difficult time.
However, there is something that can be done in advance of any disaster or emergency to make sure our pets have a fighting chance at not only surviving, but being reunited with the owners they love.
Remember if you haven't planned ahead, more than likely you and your pets will be separated. There are many wonderful pet organizations that have great emergency information and pdfs you can download so you can be educated on being prepared ahead of time so your pets will be safe during an emergency. I'll list some of these pet organizations at the end of this article. Here are some steps to not only help you be prepared, but also to ensure that you and your pets will either stay together or be reunited as soon as the emergency situation is over.
1. If you're asked to evacuate do so immediately and take your pets with you. You have much more chance of staying together with your pets if you leave early. If you wait until it's almost too late, chances are you'll have to leave your pets behind. If you wait for a mandatory evacuation your chances of staying together with your pets is very small.
2. Make sure your pet is wearing identification tags and even better that he or she is microchipped. This can be done at your veterinarian's office inexpensively and quickly. This can help ensure you are reunited with your pet if you become separated during the emergency.
3. Plan ahead. Have a place you can stay with your pets planned in advance. Either with family or friends or places you've researched that will allow you to bring your pets.
4. Keep all emergency phone numbers handy so in case of an evacuation, you have those numbers readily available to contact to help you with your pets.
5. Most shelters and veterinary clinics are usually not equipped to handle taking care of your pets until you return to your home. In fact, many of them are evacuated also. So please make sure you have a prepared place for your pets in advance.
6. Keep an emergency kit available for your pets just as you do for the humans in your household. If disaster strikes before you are able to evacuate, you may need these to help your pets until you can get medical treatment to an injured pet.
7. If an emergency or disaster arises while you are not at home, make preparations with a neighbor, a friend or family member to be sure and get your pet (s) for you.
8. During the ensuing aftermath keep your pets on leash in order to keep them under your control and with you. During such chaos pets can become disoriented and frightened and want to flee. You'll be able to avoid heartache and possible separation from your pets if you keep them leashed or in crates with you during the aftermath of a disaster.
While there are no 100% safeguards against being separated from your pets during a disaster, if you do some extra planning, you can at least ensure that you and your beloved pets will be reunited.
By being prepared ahead of time, you can make certain if you are separated from your pets during an emergency or disaster situation, that you are reunited more quickly and readily. Go to the above website to find documents you can download for your own emergency preparedness plan for your pets.
About the author:
Copyright © 2005. All rights reserved. No part of this article may be reproduced in any form without the written consent of the Author. This article is for educational purposes only. The decision to use, or not to use, any information is the sole responsibility of the reader
Dr. Kim Bloomer is an animal naturopath consulting on canine and feline nutrition and wellness. In addition, Dr. Kim is a proficient blogger, writer, speaker and presenter on natural pet care as well as the author/co-author of three books including, Whole Healthy for Happy Dogs, Animals Taught Me That and Essential Oils in Animal Care: A Naturopathic Approach. Dr. Kim's articles have been featured in various publications in both print and online. Dr. Kim is passionate about using and sharing Young Living Essential Oils. Visit her Website:www.AspenbloomPetCare.com
DISCLAIMER: All information contained here on Aspenbloom Pet Care is intended for educational purposes only. It is not provided in order to diagnose, prevent or treat any disease, illness or injured condition of the body or pets and the author, publisher, and contributors accept no responsibility for such use. Anyone or their pets suffering from any disease, illness or injury should consult with their physician or veterinarian. The ONLY essential oils we use and refer to in ALL our posts, articles, and podcasts are Young Living Essential Oils. We DO NOT use any others and would not. The statements herein have not been evaluated by the Food and Drug Administration.
Photo Attribution: Wiki Commons Media. Free use.