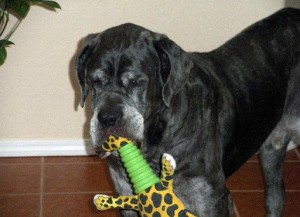 Over the last few months I've been dealing with my sweet canine boy, Shadrach's ailments that I feel I brought about. Yes, he was a horribly physically abused puppy, nearly starved to death when he came home with us. While I knew about natural care for humans, my natural pet care was lacking but Shadrach has taught me much 🙂
Over the years he's taught me he only likes to eat raw meat and bones, and he prefers a natural preventive care not wrought with vaccines. He used to run from me when I tried to put topical flea & tick prevention on him and I don't blame him one bit. As I learned and adapted, I went on a mission to share what I've learned with others which is why Aspenbloom Pet Care was born.
Shadrach suffered a fall last summer down an arroyo, and I had also been having him run with me on my daily run for a year. It's not a good idea to run his particular breed, a Neo Mastiff. Well you add all these things together -abuse and malnourishment as a puppy, vaccines, kibble-fed (for a while), running, and the fall down the arroyo and now he has arthritis in his hips and right elbow. We've been on a journey to discover what will give me my youthful, sweet, funny, sassy dog back in place of the sleeping giant who is grumpy. Well we have it right here for you! Young Living has once again proven to me they have the absolutely BEST supportive products on the market today! I'm not kidding -using ourselves and our Shadrach as guinea pigs is proof enough for me. So here is what I use for him to relieve him of discomfort and to give him a quality of life I believe all our furred and feathered ones deserve:
*Raw meat & bones with one drop of DiGize Vitality essential oil blend in the AM and one capsule of Longevity in the evening to support his digestion and ease his discomfort*. This is not a permanent addition to his wellness regimen. Just a temporary support.
*Wild salmon oil
*Traumeel (homeopathic/herbal remedy from his vet) tablet for a short time. Not something to use indefinitely, but for a time.
*Sulfurzyme by Young Living daily
Weekly Raindrop technique (also by Young Living). This might seem like a lot, but natural care is about getting the immune system strong enough to take back over the job.
I also use a variety of essential oils on him – I rotate them.
And this most wonderful smelling essential oil blend I apply along his spine and hips. I don't use as much of the other oils now that I have this one and the Cistus in it makes it smell heavenly, appropriately since it's one of the oils of the Bible, better known there as the Rose of Sharon not to mention frankincense. In fact, ALL the oils in this blend were heavily used during Biblical times. This has fast become my favorite blend on so many levels!!!
___________________________________________________
DISCLAIMER: All information contained here on Aspenbloom Pet Care is intended for educational purposes only. It is not provided in order to diagnose, prevent or treat any disease, illness or injured condition of the body or pets and the author, publisher, and contributors accept no responsibility for such use. Anyone or their pets suffering from any disease, illness or injury should consult with their physician or veterinarian. The ONLY essential oils we use and refer to in ALL our posts, articles, and podcasts are Young Living Essential Oils. We DO NOT use any others and would not. The statements herein have not been evaluated by the Food and Drug Administration.

PHOTO ATTRIBUTION: Shadrach the Neo Mastiff by Dr. Kim Bloomer, All Rights Reserved