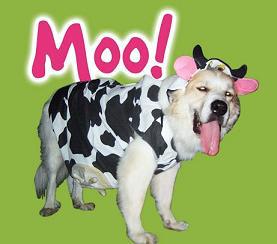 Halloween may be fun for humans but it isn't always for our dogs
Think of it this way, all these weird, small people coming and ringing doorbells all over the neighborhood can't seem normal to a dog. In fact, I'd venture to say that most dogs would be downright confused, nervous, wary and possibly even aggressive towards of all this human nuttiness. So what can we do to ensure a safe night for our canine friends that won't lead to any heartaches or accidents?

* Make sure your dogs are kept securely and safely inside, away from the ringing doorbell. This is precautionary safety for both your dog and for the children coming to your door. If you don't this could be the perfect opportunity for your dog to escape out into the night full of scary goblins and/or a child getting hurt by your distressed dog. It will also keep you from having to worry about where you dog is during all the door answering commotion that is sure to ensue.
* Make sure on this scary night of all nights that your dog is wearing his or her collar with identification tags just in case, for some odd reason, your canine escapes into the dark of night. This way you will hopefully be able to retrieve your dog back safely barring any encounter with a car that could happen.
* Be sure to keep any candy, especially the chocolate variety out of reach of your dogs. Chocolate is especially harmful to dogs and can even result in their death if enough it eaten. All candy is bad for them so keep the candy where they cannot get into it and maybe even a few natural doggie treats handy to appease your dog's lust for "goodies" that aren't good him.

* I personally would not and do not leave my own dog out in the yard alone during Halloween, New Year's Eve, Fourth of July and some other holidays. These "holidays" (I question the validity of this one being called that), are often very dangerous and scary times for our pets. Dogs get scared by the loud noises, the "out of the norm" feel of things with all the commotion going on. Make sure your dog is safely inside where he or she can't escape out any doors. I'd personally put my dog in a closed off room with his bed and toys where he could feel safe and secure and away from all the noise.

* No matter what do not allow your dog around the jack-o-lanterns or things like lit candles. Dogs are curious and this could cause harm to your dog and even your home if your dog is left unsupervised around things like this. They are like little children so make sure you are supervising them the same way you do a small human child.
* If at all possible please resist the temptation to dress your dog up and send him or her out with your children to trick or treat. While we may think this is funny and amusing, to a dog this kind of constraint is abnormal to them. If your dog is used to you dressing them up in clothing, this could be a very bad situation turning a fun time into disaster with an injury, or even a hospital visit should your dog decide to chew on his or her costume.
Okay I must appear to be the party pooper here, pun intended. My personal inclination is to always err on the side of caution with my dogs and to also treat them as nature intended by not overly anthropomorphizing my dogs. In other words my dogs will never have to endure the humility and awkwardness of wearing clothes and costumes intended for humans. I know it's fun and I laugh at all the photos I get sent also. However, my dogs won't won't ever be subjected to that or Halloween for that matter either.
Have a tail waggin' day!
About the author:
Copyright © 2006. All rights reserved. No part of this article may be reproduced in any form without the written consent of the Author. This article is for educational purposes only. The decision to use, or not to use, any information is the sole responsibility of the reader.
Dr. Kim Bloomer is an animal naturopath consulting on canine and feline nutrition and wellness. In addition, Dr. Kim is a proficient blogger, writer, speaker and presenter on natural pet care as well as the author/co-author of three books including, Whole Healthy for Happy Dogs, Animals Taught Me That and Essential Oils in Animal Care: A Naturopathic Approach. Dr. Kim's articles have been featured in various publications in both print and online. Dr. Kim is passionate about using and sharing Young Living Essential Oils. Visit her Website:www.AspenbloomPetCare.com
DISCLAIMER: THE CONTENT AND INFORMATION CONTAINED IN THIS WEBSITE ARE FOR EDUCATIONAL PURPOSES ONLY. IT MAY NOT BE CONSTRUED AS MEDICAL ADVICE, AND WE DO NOT INTEND FOR THIS INFORMATION TO BE USED TO DIAGNOSE OR PRESCRIBE FORMS OF TREATMENT.
The ONLY essential oils we use and refer to in ALL our posts, articles, and podcasts are Young Living Essential Oils. We DO NOT use any others and would not. The statements herein have not been evaluated by the Food and Drug Administration.