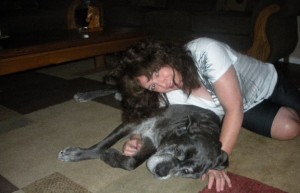 by Dr. Kim Bloomer
Most of my most poignant personal stories always seem to include a dog, always me and a dog. This is my Young Living Essential Oils story and I hope it will encourage others to look beyond traditional confines and care and look into total health for you and your pets. For the record, I've tried a lot of different nutritionals and natural health modalities, but it has been Young Living that has made the real difference in my wellness and that of my dog (now multiple dogs as of 2020) – oh yes and my husband's too!
Our story starts with paint. Yes paint – although we didn't know it at the time. Shadrach – he's the beauty of a Neo Mastiff in the photo with me – started having this weird skin disorder on his body. There was no oozing or anything, just two parallel bare patches happening on both sides of his body. He didn't seem bothered by it or even sick, but it was getting pretty worrisome to me. Rather than go with my true instincts and work to discover the cause behind it, I decided to take what I thought was the easy way out and just get him to his regular veterinarian (conventional care) and see what magic bullet they could give me. I've since learned and in fact already knew there was no such thing as a magic bullet – but I sure was hoping, because it would've been so convenient.
The veterinarian did a couple of skin scrapings and could not discern what was wrong. So what does conventional care typically do when something idiopathic presents itself? Prescribe steroids or antibiotics or both and then hope for the best. Shadrach received a prescription of topical antibiotic and oral antibiotics to be taken three times per day. Less than 24 hours later he was vomiting up fluids so I called the vet and he said to take him off the orals but to keep him on the topical, which I did. However, Shadrach still wasn't out of the woods. That same night he vomited while sleeping and aspirated the vomit into his lungs. I was pretty worn out that night, a Friday night – typical for me at week's end. I'd been in bed a mere two hours when my husband, in a bit of a panic, woke me up saying Shadrach was having a hard time breathing.
Let me back up for a minute and say that for years I worked in traditional veterinary medicine so I don't usually panic, I just go into "pro" mode and do what needs to get done. However, when it's your own pet that you love beyond words, "calm" is not usually part of what you're feeling at the time. I flew out of bed and when I heard how he was breathing and how "not himself" he looked I was pulling on clothes and flying out the door. My husband kept asking if I wanted a hat to wear or something and I thought he was crazy for asking such a silly question at such a critical time. I later discovered it was because my hair looked like Cruella de Vil, but I sure didn't care at the time. Because Shadrach is a giant breed, Mastiff, I thought he was suffering a gastric torsion (where the stomach flips over on it's side or worse completely twists), the thought of aspirating vomit never occurred to me. So I was panicked.
A long story short: the vet was a complete dork. She wanted to make the emergency clinic more bucks but I set her straight as quick as I could and got the baloney out of the way immediately. The worst part though was that they pumped Shadrach full of MORE antibiotics IV. He doesn't much like a lot of people handling him besides me and my husband so I'm sure they had a hard time with him, but they should've let me stay and help like I suggested and things would've gone a LOT smoother – for them and for Shadrach. When we picked him up in the morning he had poop all over his backside and a hind leg swollen three times the normal size because the bandage was on his leg too tight. Now I was livid at that sort of disgraceful care of him, and I had a dog MUCH sicker than what we started with. Our regular vet was angry with the emergency clinic and himself but he didn't have any other answers for us. (Don't get me wrong here, I have a lot of good veterinarian friends).
That began my now lifelong mission to share natural health and the importance of caring for the whole animal not just address symptoms.Shadrach's skin disorder turned out to be an allergic reaction to the new paint in our home from him leaning against our walls while taking his naps. Who figured out that Shadrach was suffering an allergic reaction? My husband did. How? Common sense or maybe it's now Uncommon sense. We could've saved Shadrach all that grief and trauma and a long recovery not to mention several hundred dollars, if we'd just used common sense and a natural approach. During my internet searching I discovered an organization that supported our right to use ancient healing arts on ourselves and our animals. That is where I met my Young Living sponsor, Don. Don is a musician and isn't building the business but he sure uses the products.
I was reluctant to try anything else as I was using another whole food nutritional on myself, husband and Shadrach. However, Don in his infinite wisdom sent me the Animal Scents Shampoo and Ointment to try on Shadrach. Initially I was a bit overwhelmed by the scent of YL (typical until we've detoxed) but I was willing to try it to help Shadrach. I'd also put Shadrach on an all meat and bone diet (mostly cooked then but raw now). His skin was restored within 2 weeks, and within a month his coat was gorgeous again, and he sure smelled good. That still didn't convince me to jump in and begin fully using Young Living products. I was so skeptical and angry at the time. However, I did start using the ointment on my own skin and loved it!
I was curious though so I began joining Young Living Yahoo groups online to learn more about what others were doing with the oils and nutritionals for their pets. I got so jealous after a couple of months of reading all the restorative stories that I decided to just go for it and become a full-fledged distributor. I gave up my other product and have not looked back. Young Living has helped Shadrach live his life well. In fact, I highly doubt Shadrach would be alive if I had not switched his diet to a raw diet and used Young Living nutritionals and essential oils. Shadrach is the reason I do what I do. All my dogs are but Shadrach got me out of my comfort zone to go out and help others with their pets. He's the reason I co-authored a book on natural health for dogs with holistic veterinarian Dr. Jill Elliot. He's the reason I have my natural dog health blogs. He's the reason I have an online radio show, Animal Talk Naturally. He's the reason I went back to school to receive my degrees in animal naturopathy, and in human health for holistic nutrition, doctor of naturopathy. I don't want others pets to suffer as my own have. Shadrach would not tolerate traditional care. He wasn't thriving – something they all deserve to do with optimal health. He had a horrible start in life. He came to us a horribly abused and nearly starved to death approximately 4-5 month old puppy.
Shadrach isn't the huge dog he should be because of poor breeding and his horrible abuse and neglect, not to mention the vaccines and pharmaceuticals he endured. I no longer use any pharmaceuticals. I went through my own cleanse using Young Living products and while it wasn't a lot of fun, it has sure been great getting "weller" everyday! My husband is doing much better also.
Our story isn't the only out there like this. There are many, many others who've experienced amazing results using Young Living. All I can say is that if it hadn't been for Shadrach, I'm not sure I'd be doing half as well as I am now. I also believe that if I'd continued down the route of conventional care, I'd no longer be enjoying the company of my big, beautiful boy dog known to us in private as "Moose". Conventional care has its place but it's not whole, total health.
I'm eternally grateful to God for not only loaning us Shadrach for a time, but for placing him in our lives and care so that we would be led to Young Living. God sure knew what He was doing by using a dog to get my attention. Animals have always been what get my attention, but especially dogs. I hope this story encourages others on their path to natural health and wellness. One last thing: you don't need degrees, or an education to receive and share the benefits of Young Living. All you need is a desire to help others.
My short story:
By trade and profession I am an animal naturopath (an animal health coach if you will) which is rather an anomaly in the USA, although not in many other countries – and my passion in part has been to change that. I owe it to my former, amazing dog Shadrach, a giant breed Neapolitan Mastiff. After a series of circumstances using a conventional approach that made him sicker than ever (I'm also a former veterinary technician) I KNEW there had to be a better, more natural, more wholesome way of caring for him – and myself and husband. So began my journey which led me to my passion of guiding and assisting others to help themselves and their pets be liberated as I was. Liberated to be healthy. Liberated to pursue our right to be well without toxic chemicals. The liberty to pursue wellness, purpose and abundance. I invite you to join me.
About the author:
Copyright© 2007. All rights reserved. No part of this article may be reproduced in any form without the written consent of the Author. This article is for educational purposes only. The decision to use, or not to use, any information is the sole responsibility of the reader.
Dr. Kim Bloomer is an animal naturopath consulting on canine nutrition and wellness. In addition, Dr. Kim is a proficient blogger, writer, speaker and presenter on natural pet care as well as the author/co-author of three books including Animals Taught Me That and the newest Essential Oils in Animal Care: A Naturopathic Approach co-authored with her two colleagues. Dr. Kim's articles have been featured in various publications in both print and online. Dr. Kim is passionate about using and sharing Young Living Essential Oils. Visit her Website:www.AspenbloomPetCare.com
DISCLAIMER: All information contained here on Aspenbloom Pet Care is intended for educational purposes only. It is not provided in order to diagnose, prevent or treat any disease, illness or injured condition of the body or pets and the author, publisher, and contributors accept no responsibility for such use. Anyone or their pets suffering from any disease, illness or injury should consult with their physician or veterinarian. The ONLY essential oils we use and refer to in ALL our posts, articles, and podcasts are Young Living Essential Oils. We DO NOT use any others and would not. The statements herein have not been evaluated by the Food and Drug Administration.