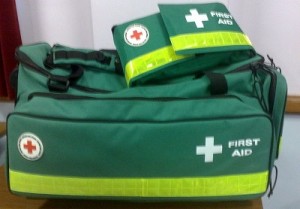 Our dogs are a lot of fun, especially in summer but with that can come accidents and injuries. It pays to be prepared for an emergency with your dog
Summer often brings a lot great outdoor fun and activities but those good times are often coupled with accidents and injuries for both us and our dogs. We need to be prepared for those times with a first aid kit at the ready for our dogs. I am always inclined to approach anything with nature's remedies first before anything synthetic made by man, although for those acute situations they will most likely be necessary. So let's take a look at how put together an integrative first aid kit and how you can be prepared to help ensure your dog has the best chance of survival in an emergency situation. Keep reading here:
We all know that if our dogs have been seriously hurt we need to get them to their veterinarian in a hurry, but did you know that there are some basic common sense steps you can take to help raise the odds of not only your dog's survival but also make recovery quicker? Just by having some basic first aid items on hand and knowing some basics such as CPR and the Heimlich maneuver, you can be much more certain of a happy outcome for your dog.

Here is what you'll want to keep in your integrative first aid kit:
– Disposable gloves
– Tweezers
– Bandages
– Gauze pads
– Adhesive tape
– Scissors
– Rolled bandages
– Blanket
– In place of iodine and a betadine scrub I use a natural soap (see below) and a lavender essential oil spray (Lavaderm) for burns, scrapes, or any skin conditions. I also use an essential oil blend spray (Thieves Spray – see below) that is a disinfectant and cleanser. I would highly caution you to NOT purchase these essential oils in a health food store as they are usually adulterated with synthetics that can make the problem even worse. Use only therapeutic grade essential oils, OR go back to using the standard peroxide, iodine and a betadine soap if you can't obtain therapeutic grade essential oils – it's better to be safe than sorry. I prefer the natural products but hydrogen peroxide is a good one to have on hand for a variety of ailments.
Natural products to include in your kit should include the following:
–Activated charcoal – for any poisonings, toxin removal, etc.
–Bentonite clay – to draw out toxins
–Aloe vera gel – soothing for burns, rashes
–Homeopathic emergency kit – speaks for itself
–Colloidal silver – natural antibiotic, eye wash, even helps with sunburns, rashes, etc.
–Raw or Manuka Honey – it is great for dressing open wounds; also a natural antibiotic. The sugar literally explodes any bacteria.
ALL of the above can be purchased in your local health food store. I purchase my bentonite clay and aloe vera gel from Mountain Rose Herbs. I make my own colloidal silver using a SilverGen generator. A good place to order homeopathic kits from is http://a2zhomeopathy.com/.
The following are recommendations that Brad Kriser, Founder and CEO of Kriser's, (the leading all-natural pet stores in the Chicago and Los Angeles areas in the U.S.) has made to have on hand for emergencies, and I concur although I'd consider the Thundershirt optional:
–Thundershirt – This innovative jacket for pets relieves anxiety by providing a consistent, yet gentle, pressure to produce a calming effect. It works wonders in thunderstorms and is good to have on hand for pets that are prone to anxiety.
–Extra Water Supply – Make sure you have several bottles of water (enough to last three to seven days) set aside for your pet to ensure he or she stays well hydrated during unpredictable times.
–Freeze Dried Food – Freeze dried foods have a long shelf life and often just require water to be added before serving. They're light and easy to transport, and can offer the same healthy benefits and great taste for your pets.
–Rescue Remedy – Known for its immediate calming effect on pets, this easy-to-use, all-natural product provides a soothing alternative to traditional anxiety relievers. (I have been getting my flower remedies from Vitacost.com as they have pretty good prices on the Bach Flower Remedies).
The following products are by Young Living Essential Oils – I always have all of these on hand – I have used Young Living products for years and also I am a distributor of their products*:
–Lavaderm spray is great for soothing and calming minor burns or similar skin irritations.
–Panaway blend, helichrysum, or Deep Relief Roll-On for soothing any discomfort.
–Di-Gize blend for digestive discomfort.
–Additional oil blends to have on hand include: Valor, Ruta Vala, lavender, Tranquil, Stress Away, White Angelica, and Trauma Life
–V6 Massage Oil as a natural replacement for petroleum jelly when a lubricant is needed
–Animal Scents Ointment. It is a protective and soothing salve formulated for external use on animals. Typically used for minor skin irritations, cuts, and abrasions, the rich blend of ingredients is effective yet gentle and safe, so you can soothe your pets without using harmful chemicals or synthetic products.
–Thieves Kit which has the soap, essential oil blend, and spray I mentioned above as a natural alternative to the betadine scrub and iodine.
For any of the following incidences you want to rush your dog to your veterinarian:
– Heatstroke – get your dog cooled off quickly but do not use ice. The fastest way is to pour cold water on the paws and under the neck where the jugular vein is located. Then you can apply along the spine and head if you have time, and if you can get your dog to drink a bit that is also good. Make sure you get your dog to your veterinarian as soon as possible following a heatstroke.
– Poisoning of any kind which includes antifreeze, chocolate, paints, fertilizers, herbicides and pesticides, household cleaning chemicals, any of these and be sure to bring along any labels or products you suspect your dog may have ingested. Keep your dog warm (cover with a blanket).
– Severe vomiting and /or diarrhea -there can be a whole lot of different reasons for this but err on the side of caution and get your dog to your veterinarian immediately.
– Shock -from being hit by a car, severe injury from a dog fight, or any other acute situation. Keep your dog warm, and keep the head slightly lower than the body while on your way to your veterinarian.
– Cuts and/or wounds -again this can be a critical situation so do exactly as with humans and keep pressure on the open or bleeding wound, keep your dog warm (use the blanket in your first aid kit)
– Any severe allergic reaction
– Choking and/or gagging
You can take a class in animal first aid in your area in order for you to be better prepared to handle an emergency should it arise, just go to www.PetTech.net to find out where classes are being held in your area. You will also learn how to do CPR and the Heimlich maneuver for your dog, along with other ways in being prepared to tackle a dog emergency.
The best offense for your pet emergencies is a good defense, so be prepared for that inevitable emergency so you won't be caught off guard in a critical situation.
About the author:
Copyright © 2011. All rights reserved. No part of this article may be reproduced in any form without the written consent of the Author. This article is for educational purposes only. The decision to use, or not to use, any information is the sole responsibility of the reader.
Dr. Kim Bloomer is an animal naturopath consulting on canine and feline nutrition and wellness. In addition, Dr. Kim is a proficient blogger, writer, speaker and presenter on natural pet care as well as the author/co-author of three books including, Whole Healthy for Happy Dogs, Animals Taught Me That and Essential Oils in Animal Care: A Naturopathic Approach. Dr. Kim's articles have been featured in various publications in both print and online. Dr. Kim is passionate about using and sharing Young Living Essential Oils. She is the host of the DOGgone Truth podcast AND the DOGgone Wellness audio course (on mobile app) so you can learn on the go!
DISCLAIMER: All information contained here on Aspenbloom Pet Care is intended for educational purposes only. It is not provided in order to diagnose, prevent or treat any disease, illness or injured condition of the body or pets and the author, publisher, and contributors accept no responsibility for such use. Anyone or their pets suffering from any disease, illness or injury should consult with their physician or veterinarian. The ONLY essential oils we use and refer to in ALL our posts, articles, and podcasts are Young Living Essential Oils. We DO NOT use any others and would not. The statements herein have not been evaluated by the Food and Drug Administration.