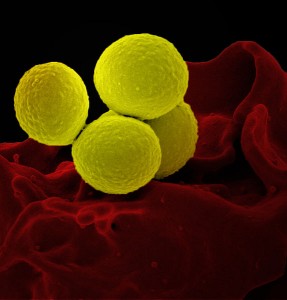 Our canines have a world of infectious diseases that can lay assault against them and one is MRSA
As the USA Representative for the UK-based Bella Moss Foundation I felt it would be prudent to write about one of the canine infections that can plague our dogs, MRSA (methicillin-Staphylococcus aureus). This is a staph bacterium that has mutated from humans into animals and is resistant to one of the strongest known antibiotics, methicillin.
While I'm not an authority on infectious diseases or even staph infections, I think it's always wise to at least be aware of the different things that could possibly harm our dogs in a given situation. As a dog owner it just makes sense to know these things in order to be prepared beforehand.
Let's face it; we live in a world together with bacteria, viruses and a multitude of other unseen microscopic forces for the most part in harmony. MRSA is relatively harmless under normal conditions, but if your dog has a cut or open wound (such as during surgery) MRSA can and does turn deadly.
Unfortunately, this particular strain of staph is very resistant, as I stated above, to one of the most powerful antibiotics, methicillin and even worse it also has a tendency to mutate with every antibiotic used to combat against it. As with other infectious organisms, viruses, and bacteria, MRSA likes a weakened immune system. A weakened immune system is what attracts any parasite, virus, or bacteria and is what makes this threat especially dangerous in hospitals and veterinary hospitals.
I'm not an alarmist so this article is meant to bring awareness rather than to scare anyone. I believe being prepared is a very proactive form of prevention. The best way to prevent MRSA is through proper hygiene. MRSA is spread from humans to animals and back to humans from animals and why hygiene plays such a critical role in preventing MRSA. Veterinary hospitals will need to be the most proactive in their hygiene practices and also in stopping the overuse of antibiotics which leads to more resistant strains of bacterium, often called superbugs by the media.
Since I practice and adhere to more natural forms of health care for myself and that of my dogs, I believe that natural treatments along with better education are vital to avoiding MRSA. Through proper species specific feeding for our canines (for me that means feeding raw meat and bones) their immune systems will be far stronger and much more able to ward off infectious diseases including the ever virulent MRSA. Immune enhancing support* in the form of herbs, essential oils, and other natural modalities can be an alternative solution to the overuse of antibiotics which have created these superbugs in the first place. For more information on MRSA in pets go to Pets MRSA.
Originally published here:
http://dogs.suite101.com/article.cfm/our_dogs_and_mrsa
About the author:
Copyright © 2007. All rights reserved. No part of this article may be reproduced in any form without the written consent of the Author. This article is for educational purposes only. The decision to use, or not to use, any information is the sole responsibility of the reader.
Dr. Kim Bloomer is an animal naturopath consulting on canine and feline nutrition and wellness. In addition, Dr. Kim is a proficient blogger, writer, speaker and presenter on natural pet care as well as the author/co-author of three books including, Whole Healthy for Happy Dogs, Animals Taught Me That and Essential Oils in Animal Care: A Naturopathic Approach. Dr. Kim's articles have been featured in various publications in both print and online. Dr. Kim is passionate about using and sharing Young Living Essential Oils. Visit her Website:www.AspenbloomPetCare.com
DISCLAIMER: THE CONTENT AND INFORMATION CONTAINED IN THIS WEBSITE ARE FOR EDUCATIONAL PURPOSES ONLY. IT MAY NOT BE CONSTRUED AS MEDICAL ADVICE, AND WE DO NOT INTEND FOR THIS INFORMATION TO BE USED TO DIAGNOSE OR PRESCRIBE FORMS OF TREATMENT.
The statements herein have not been evaluated by the Food and Drug Administration.
Photo Attribution: By National Institutes of Health (NIH) (National Institutes of Health (NIH)) [Public domain], via Wikimedia Commons http://commons.wikimedia.org/wiki/File%3ANeutrophil_MRSA_I.jpg