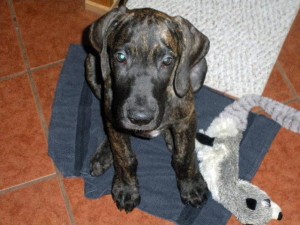 What you need to know
©by Kim Bloomer, VND
Puppies are so cute but it does pay to know what you'll need to do in advance of ever bringing your cute little furball home
You've done your homework and figured out which breed, even if it's a mixed breed, what puppy will be right for you and your lifestyle. Before you bring your new puppy home however, you'll want to make sure you have some things in place before you do. For me a puppy is nearly the equivalent of bringing home a new baby, because they are dog babies who need love, attention, care and the security of knowing they are safe. Let's cover a few things you'll want to before the day you pick up your new puppy:
– Purchase all the things you'll need for your puppy – i.e., food, dishes, toys, bed, collar, grooming equipment, and so on. For me it would mean, since I raw feed, needing to stock my carnivore freezer, have a feeding tarp for the new puppy, etc.
– Have all your "equipment" in the place. This means put the food dishes in the exact place you will want your puppy to eat, the bed in the room you'll want him/her to sleep, toys where they will go, etc.
– Determine when and who in your household will be feeding, exercising, and training your puppy.
– You'll want to determine your veterinarian in advance also if you don't already have one. Talk with others and ask someone to refer you to their veterinarian as your puppy will most likely need an initial exam.
– If you work fulltime, decide if you'll leave your puppy with a dog sitter, at a doggie daycare, a dog walker in advance so your puppy is not alone all day.
– Determine an amount of money you'll need in order to care for your puppy properly, according to his or her needs.
On the actual day you do bring your new puppy home, if you have small children, it may be best to wait a day or so to introduce them to the new puppy so the puppy has time to adjust to you and your home. Remember the puppy is away from his mom and littermates for the first time and everything is new and uncertain to him or her. They need a calm, quiet environment for at least a day or two while you get acquainted with each other. You can introduce your own small children to the new puppy AFTER your puppy adjusts and gets acquainted with you.

Teach your puppy his or her boundaries on the very first day, walking them through where they are allowed to go or not go, so they understand what you expect of them. They can't know unless YOU teach them. This is all foreign to them and too many dogs are surrendered to shelters because the owner didn't prepare for the puppy and didn't do their homework about the needs and nature of a dog.
Puppies are cute but remember they grow up into dogs and you must start immediately to teach them what is expected of them to fit into our human society. Housetraining, walking on-lead, and not barking at everything are your responsibility to teach this new furry member of your household. Screaming and shouting at your puppy only confirms to him that you are not in control of the situation. If you don't know what it takes to train a dog, seek professional advice in advance of ever bringing your dog home so you'll know the steps necessary to help your dog be a confident household member.
Dogs do what is their nature to do including digging. By learning all this in advance, being prepared for this new addition to your home, you and your dog will have a much better, happier life together.
Originally published here:
http://dogs.suite101.com/article.cfm/bringing_home_a_new_puppy
About the author:
Copyright © 2007. All rights reserved. No part of this article may be reproduced in any form without the written consent of the Author. This article is for educational purposes only. The decision to use, or not to use, any information is the sole responsibility of the reader.
Dr. Kim Bloomer is an animal naturopath consulting on canine and feline nutrition and wellness. In addition, Dr. Kim is a proficient blogger, writer, speaker and presenter on natural pet care as well as the author/co-author of three books including, Whole Healthy for Happy Dogs, Animals Taught Me That and Essential Oils in Animal Care: A Naturopathic Approach. Dr. Kim's articles have been featured in various publications in both print and online. Dr. Kim is passionate about using and sharing Young Living Essential Oils. Visit her Website:www.AspenbloomPetCare.com
DISCLAIMER: All information contained here on Aspenbloom Pet Care is intended for educational purposes only. It is not provided in order to diagnose, prevent or treat any disease, illness or injured condition of the body or pets and the author, publisher, and contributors accept no responsibility for such use. Anyone or their pets suffering from any disease, illness or injury should consult with their physician or veterinarian. The ONLY essential oils we use and refer to in ALL our posts, articles, and podcasts are Young Living Essential Oils. We DO NOT use any others and would not. The statements herein have not been evaluated by the Food and Drug Administration.
PHOTO ATTRIBUTION: Meshach the Great Dane puppy by Dr. Kim Bloomer. Copyright 2011, All Rights Reserved.