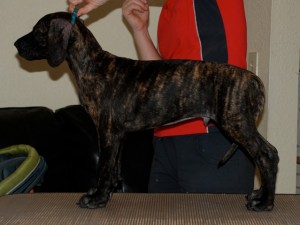 A perfect dog for your lifestyle
©Kim Bloomer, VND
It's great when we see those cute puppies or amazing dogs in the movies and on TV but those dogs are highly trained or it's Hollywood magic…
So, you're looking for a new dog or a puppy? If this is your first time ever owning a dog, the best place to start to look is in your bookstore, library and the internet. That's right because bringing home a dog is no small thing and it will take research on your part so you will begin to know and understand the nature of the animal you are bringing home to live with you and your family. Before you even choose a specific breed, you will need to know all you can about what it means to own a dog otherwise your new puppy might end up being another statistic in a shelter somewhere. Visit dog shows, shelters, dog sporting events, etc. so you can get a feel for the ways people interact with their dogs and the nature of individual breeds.
1. The first thing to know is that cute puppies do grow up into dogs. A wild, silly, nipping puppy might seem cute or funny but it isn't so cute or funny in a full grown dog. So understanding the nature of a dog and how to raise one is critical.
2. Next you want to determine what dog will work best for your particular lifestyle.
3. Don't let the movies or television dogs determine your choice -those dogs are highly trained and most likely nothing like a "real" dog would be at home. You owe it to your potential dog to know if he or she will be able to fit into your own lifestyle. You will also want to know what your own expectations of owning a dog are and mean to you. It's really important you determine this well beforehand so you don't end up being fully surprised and wondering what you've gotten yourself into. That's how dogs end up surrendered to shelters because the owner didn't know enough or care enough to learn about the dog, train the dog and commit to the dog.
4. If you're a sedentary sort that doesn't like to do hard exercise a Golden Retriever or a Jack Russell Terrier may not be the breed for you. These breeds have a lot of energy and need regular, daily exercise. If you're a runner and want a running companion, an English Mastiff may not be the best choice for you. It pays to do your homework so you can find the best breed to fit into your lifestyle.
5. Also keep in mind your dwelling space. If you're in a small apartment a giant breed would probably not be your best choice. Also understand that if you work long hours each day, a puppy may not be what will work for you either. A dog will bond to you no matter what their age is IF you take the time to invest in them with love, training, and commitment. An older dog may be a better choice for you if you do work long hours and can't be at home to let a puppy out to potty, feed, and interact with many times during the day. Of course there are options for long working hours such as doggie daycares and dog walkers/sitters, but make sure you have budgeted in this commitment. Dogs are a time, money, love and life investment and I mean for their life not yours. The rewards are bountiful if you'll do your part too. Dogs are always more than willing to go above and beyond the call of duty and if you are also, the joy is boundless!
Do your homework, learn, and THEN commit to a breed that suits you. Remember a dog is for life -their life!
Originally published here:
http://dogs.suite101.com/article.cfm/choosing_the_right_breed
About the author:
Copyright © 2007. All rights reserved. No part of this article may be reproduced in any form without the written consent of the Author. This article is for educational purposes only. The decision to use, or not to use, any information is the sole responsibility of the reader.
Dr. Kim Bloomer is an animal naturopath consulting on canine and feline nutrition and wellness. In addition, Dr. Kim is a proficient blogger, writer, speaker and presenter on natural pet care as well as the author/co-author of three books including, Whole Healthy for Happy Dogs, Animals Taught Me That and Essential Oils in Animal Care: A Naturopathic Approach. Dr. Kim's articles have been featured in various publications in both print and online. Dr. Kim is passionate about using and sharing Young Living Essential Oils. Visit her Website:www.AspenbloomPetCare.com
DISCLAIMER: THE CONTENT AND INFORMATION CONTAINED IN THIS WEBSITE ARE FOR EDUCATIONAL PURPOSES ONLY. IT MAY NOT BE CONSTRUED AS MEDICAL ADVICE, AND WE DO NOT INTEND FOR THIS INFORMATION TO BE USED TO DIAGNOSE OR PRESCRIBE FORMS OF TREATMENT.
The ONLY essential oils we use and refer to in ALL our posts, articles, and podcasts are Young Living Essential Oils. We DO NOT use any others and would not. The statements herein have not been evaluated by the Food and Drug Administration.
Photo Attribution: Sisco Danes, Zona Danes – Meshach the Great Dane puppy at 9 weeks of age. Copyright 2011 All Rights Reserved.