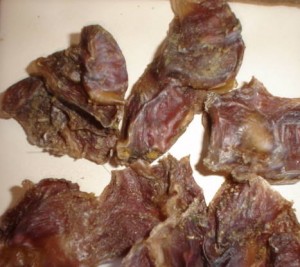 There is such a variety when it comes to treats for our dogs these days but make sure you are making wise choices for their overall good health
These days' dogs certainly have a wide variety to choose from for their snacking pleasure. It's rather funny to me how we feel the need to contribute to our dogs' bad eating habits the same way we support our own. The good news is that while there is a wide variety of doggie treats on the market, the newest trend is leaning towards healthy or "natural" treats for our dogs. Keep reading here:
Here are some points you'll want to remember BEFORE you purchase some of these new "natural" treats:
*"Natural" doesn't necessarily mean "natural". It's a great buzz word these days so make sure you read the labels. If the ingredients appear to be a bunch of weird words you can't pronounce I might steer clear of that for my dog.
*Dogs are obligate carnivores (oh yes they are) so feeding them grain-laden treats, even if the treats are all natural grains and wholesome foods, doesn't mean that your dog should be eating that. For me I won't feed my dogs anything that has grains in it since they are often the culprit behind the allergies, inflammation, then immune-mediated diseases and even ultimately cancer.
*Choose the ones that have the primary ingredient as protein or a meat product. My favorite for my dog is the dehydrated chicken or turkey treats by Bravo Raw Diets and another good one is by Great Life 4 Pets freeze-dried treats.
*The standard treats in your grocery store will only do one thing: make the companies who produce them richer, they won't help your dog's overall health but rather add to his or her decline in health so avoid these altogether
You can also create your own naturally healthy treats at home quite simply. Two recipes I typically adhere to when making my own are entirely meat-based. You may laugh when you discover not only their simplicity but the fact that you don't need hardly anything in the way of ingredients.
Liver Treats:
Simply take some beef livers or chicken livers and make certain to use ONLY organic, range-fed beef or chicken. The reason is because the liver is a filtering system in the body and you don't want your dog eating a liver treat that is laden with hormones or antibiotics.
Take the livers and boil them until thoroughly cooked and then set them out to dry. You can store the dried treats in your freezer in packets and then thaw out one packet at a time to feed to your dog. Make sure though to keep these treats refrigerated. These are wholesome, healthy, simple treats you can feed to your dog that have no chemicals, preservatives or synthetics in them.
Dehydrated Treats:
Many of us now have our own dehydrators in our homes to create jerky, dried fruits and vegetables, and other goodies for us. We can use these same dehydrators to make treats for our dogs. Simply use the same sort of meat you use for jerky such as a rump roast, turkey or chicken breasts, etc. and dehydrate those for your dog but without all the spices, flavorings and marinade we typically use for our own dehydrated goodies.
That's it simplicity for the best treats you can give your dogs. Remember that if you decide to purchase dog treats to choose wholesome, tasty but truly healthy treats for your carnivorous best friend.
Originally published here:
http://dogs.suite101.com/article.cfm/doggie_treats
About the author:
Copyright © 2007. All rights reserved. No part of this article may be reproduced in any form without the written consent of the Author. This article is for educational purposes only. The decision to use, or not to use, any information is the sole responsibility of the reader.
Dr. Kim Bloomer is an animal naturopath consulting on canine and feline nutrition and wellness. In addition, Dr. Kim is a proficient blogger, writer, speaker and presenter on natural pet care as well as the author/co-author of three books including, Whole Healthy for Happy Dogs, Animals Taught Me That and Essential Oils in Animal Care: A Naturopathic Approach. Dr. Kim's articles have been featured in various publications in both print and online. Dr. Kim is passionate about using and sharing Young Living Essential Oils. Visit her Website:www.AspenbloomPetCare.com
DISCLAIMER: THE CONTENT AND INFORMATION CONTAINED IN THIS WEBSITE ARE FOR EDUCATIONAL PURPOSES ONLY. IT MAY NOT BE CONSTRUED AS MEDICAL ADVICE, AND WE DO NOT INTEND FOR THIS INFORMATION TO BE USED TO DIAGNOSE OR PRESCRIBE FORMS OF TREATMENT.
The ONLY essential oils we use and refer to in ALL our posts, articles, and podcasts are Young Living Essential Oils. We DO NOT use any others and would not. The statements herein have not been evaluated by the Food and Drug Administration.