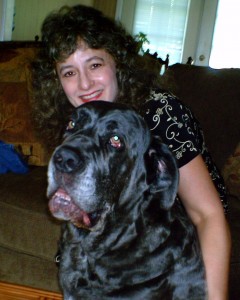 by Dr. Kim Bloomer
Since animal naturopathy isn't widely used in the United States, I often get asked what exactly it is I do and most often I'm mistaken for being a holistic veterinarian. Therefore the goal of this article is to set that record straight. Interestingly enough, many people in this country don't seem to think that health care is an issue UNLESS one is sick – and that same mindset holds true for animal care as well.
However, health care is preventing illness not waiting until you or your pets are sick and that is what naturopathy is all about – for both humans and animals. It's about supporting the vital force (life force) within our bodies. Disease is really not "disease" in the allopathic sense of things. It is when a body goes out of homeostasis (out of balance) that a body – human and animal – becomes "dis-eased". The body always works to put itself back into that harmonious balance. The way naturopathy looks at illness, particularly an acute illness is the body is working to remove any of the "morbid matter", clean house, and get things back into harmonious working condition. Modern medicine tends to look at all germs as the enemy to be eradicated. But germs are all around us. If we try to eradicate them we're killing off ourselves as well. Naturopathy looks at illness as a form of healing. Our focus is always on healing and health rather than disease.
***This article in its entirety is now available ONLY in the "Philosophy of Animal Naturopathy" class at the American Council of Animal Naturopathy.
_______________________________
Copyright © January 2009. All rights reserved. No part of this article may be reproduced in any form without the written consent of the Author. This article is for educational purposes only. The decision to use, or not to use, any information is the sole responsibility of the reader.
Dr. Kim Bloomer is a certified animal naturopath and published author, consulting on canine nutrition and wellness. She hosts the internet radio show, Animal Talk Naturally with colleague Dr. Jeannie Thomason. The two are also the Founders of the American Council of Animal Naturopathy. In addition, Dr. Kim is a proficient blogger and writer on natural pet health, having co-authored the book Whole Health for Happy Dogs and authored the book Animals Taught Me That. Dr. Kim's articles have been featured in various publications such as Animal Wellness, Natural Horse, Dogs Naturally, NM Breeze, Raw Instincts, and the Pet Connection magazines. Website:www.AspenbloomPetCare.com
DISCLAIMER: THE CONTENT AND INFORMATION CONTAINED IN THIS WEBSITE ARE FOR EDUCATIONAL PURPOSES ONLY. IT MAY NOT BE CONSTRUED AS MEDICAL ADVICE, AND WE DO NOT INTEND FOR THIS INFORMATION TO BE USED TO DIAGNOSE OR PRESCRIBE FORMS OF TREATMENT.
The ONLY essential oils we use and refer to in ALL our posts, articles, and podcasts are Young Living Essential Oils. We DO NOT use any others and would not. The statements herein have not been evaluated by the Food and Drug Administration and the AVMA (American Veterinary Medical Association).