for immediate release
Animal naturopath authors new book to show how people can learn important life lessons through animals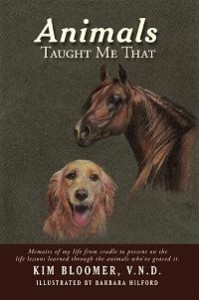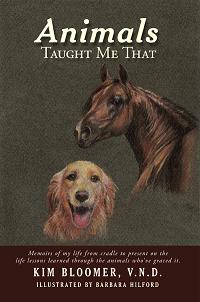 Rio Rancho, NM: December 15, 2009 Animal naturopath, Dr. Kim Bloomer's latest book, Animals Taught Me That, was recently released through Crossbooks Publishing.
This book is an encouraging memoir and detailed account of how Dr. Bloomer learned all the most important lessons life has for us through the love and friendship of God's creatures.
In addition to being an author and animal naturopath, Dr. Bloomer hosts the online talk radio show, Animal Talk Naturally, with her colleague, Dr. Jeannie Thomason, which airs weekly on BlogTalk Radio. The two enjoy interviewing such guests as Kim Meeder of Crystal Peaks Youth Ranch, Lew Sterrett of Sermon on the Mount, and many other animal professionals, experts, and authors who love animals.
Bloomer's love of animals and work with them is what motivated her to write this book to help others learn from her mistakes and be encouraged by her triumphs.
"My hope is not only that you will learn life's most important lessons, but that the animals in your life will be honored for who they are and how much they really do mean in our lives," says Bloomer.
"Dr. Bloomer writes from her heart and she writes well. 'Animals Taught Me That' is a thoughtful book that fills a void and will be enjoyed by many," says veterinarian, Dr. Hugh Bassham.
"Dr. Bloomer shares her passion and deep love of God's creatures in this wonderful, celebrational account of the special relationships with the animals that have graced her life. This book is a must read for all animal lovers," commented Dr. Jeannie Thomason.
To purchase the book or learn more visit the website at www.AnimalsTaughtMeThat.com
###
Contact:
Dr. Kim Bloomer
http://www.animalstaughtmethat.net