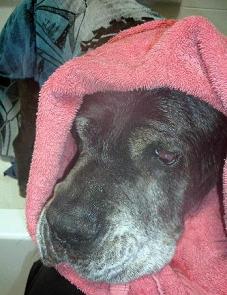 Recently the FDA warned pet owners of a particular brand of pet shampoo that has the potential to cause asthma attacks in the humans who bathe their dogs using this shampoo. This post explains a bit further: FDA Warns Pet Owners of Pet Shampoo.
Of course I wonder if it is so toxic to people who are merely using it ON their dogs, what is it doing to the poor dogs that are drenched and bathed in it?
Naturally reared dogs don't need to be bathed near as often as conventionally reared dogs, and what is even better they don't typically have the often severe and ongoing problems with pests and parasites either.
Another plus is they don't have all the skin problems that would warrant bathing your dog with a medicated product.
But for those times you do need to bathe your dog, you want to be assured that the product you use is safe for your dog and for you.
For years I have only used the Animal Scents Shampoo by Young Living. It is gentle, smells good and it has always been very effective for my use on Shadrach. It will be the only shampoo I use on my future dog also. The essential oils in it are natural pest repellents which makes it a very good choice to use on your dogs on so many levels.
Here are the ingredients:
Deionized Water, Decyl Glucoside, Coco Betaine, Lauryl Glucoside, Coco-Glucoside, Glyceryl Oleate, Sorbitan sespuioctanoate, Cymbopogon Nardus (Cintronella) Oil, Lavandula Hybrida (Lavandin) Oil, Cintrius Limon (Lemon) Peel Oil, Pelargonium Graveolens (Geranium) Flower Oil, Nardostachys Jatamansi (Spikenard) Oil, Glycerin, Water, Levulinic Acid, Xanthan Gum, Inulin, p-Anisic Acid, Lactic acid, and Sodium Phytate 100% pure YLTG quality essential oil Formulated by D. Gary Young.
It's such a nice, clean smell on your dog – no chemical smell. I dilute a bit of the Animal Scents Shampoo in a 32 oz bottle of warm pure water (I had a GREAT big dog if you'll recall). I would get Shadrach real wet first, and then just squeeze the entire 32 oz bottle of shampoo water on him, wash him (it doesn't suds a lot but that's good because that means it doesn't have all those typical surfactants in it) and rinse. The rinsing was easy, and so the bathing was not a long process either – good for dog and for human!
DISCLAIMER: All information contained in Aspenbloom Pet Care is intended for educational purposes only. It is not provided in order to diagnose, prevent or treat any disease, illness or injured condition of the body or pets and the author, publisher, and contributors accept no responsibility for such use. Anyone or their pets suffering from any disease, illness or injury should consult with their physician or veterinarian. The ONLY essential oils we use and refer to in ALL our posts and articles are Young Living Essential Oils. The statements herein have not been evaluated by the Food and Drug Administration.
Photo Attribution: Shadrach the Neo Mastiff by Dr. Kim Bloomer. Copyright 2010 All Rights Reserved.