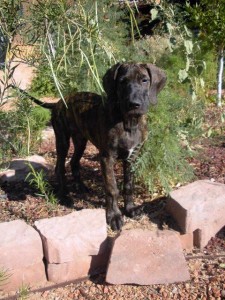 Well we haven't switched this blog over yet for our new Great Dane puppy Meshach to command and continue where Shadrach left off – but he has indeed arrived!
I began using the Young Living Essential Oils almost immediately with him. The first one: Peace & Calming LOL! He is so BUSY every day that sometimes the only way to ensure I get to rest the night through is to use Peace & Calming. I used it a lot more during the first couple of weeks as we were house training Meshach.
He has grown from a 22 lbs, 9 week old puppy, to a 42 lbs 13 week old puppy! He is naturally reared (NR) but he is first generation NR so I knew that there would be residual epigenetic toxins in him. So I began using a blend of Young Living Essential Oils I knew would support his body and enhance his immune system*.
I also started putting some Mineral Essence and Rehemogen drops in his water daily to further facilitate a detox in him as well as support the mineral imbalance that we already knew about – along with feeding him a raw diet, I increased the amount of green tripe he gets since it is loaded with minerals, trace minerals, enzymes and probiotics! And it has been working well! He had a bit of an ear problem when he arrived – red, irritated with some gunk in it. That is about cleared up which means his body is working efficiently to remove any of the toxins.
And of course the Animal Scents Shampoo and Animal Scents Ointment have already come in handy for cleaning a puppy who had traveled with his entire litter from AZ to OK back here to NM to be dropped off to live with us. AND the ointment comes in handy with supporting the skin during detoxification.
All of this has been done up to now using only Young Living Essential Oils. I am as always so thrilled with how amazing Young Living Products are!
Have a pawsitively tail waggin', FRAGRANTLY healthy day!
DISCLAIMER: All information contained in Aspenbloom Pet Care is intended for educational purposes only. It is not provided in order to diagnose, prevent or treat any disease, illness or injured condition of the body or pets and the author, publisher, and contributors accept no responsibility for such use. Anyone or their pets suffering from any disease, illness or injury should consult with their physician or veterinarian. The ONLY essential oils we use and refer to in ALL our posts and articles are Young Living Essential Oils. The statements herein have not been evaluated by the Food and Drug Administration.

Photo Attribution: Meshach the Great Dane by Dr. Kim Bloomer. Copyright 2011, All Rights Reserved.