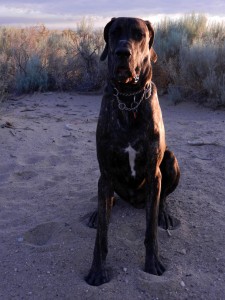 Now that it is HOT and already summer here in the Land of Enchantment (aka New Mexico), I am taking Meshach out for his walks EARLY in the morning. I do that because 1) he is a dark-coated dog, and 2) because it is hot. Those two don't mix well, so it is best to get him out in the cool of the morning. I sure wished all dog owners would do likewise during the summer and we'd see a lot less problems with heatstroke and heat-related deaths in dogs.
Mornings in the desert are fairly cool, at least until the sun comes up over the mountains here but even then it isn't too bad – not until about 8AM anyway LOL!
Because of the coolness and Meshach's excitement at being out and free to run the hills and arroyos with me, he gets Great Dane zoomies…a LOT!
If you've never been the recipient of a Great Dane zoomie coming straight at you, well it's like missing a freight train bearing down upon you with you stuck on the tracks! OY VEY is all I can say, hahahaha! In this photo he had just finished having a zoomie as is evidenced by all the slime on his face 🙂
He dashes up hills, down through the arroyo sand and through sage and brush AND cacti! The flora and fauna of the desert is striking AND stickery. So sometimes Meshach comes home with tiny little stickers in his paws that get stuck in between the paw pad and his toe pads which I then have to tweezer out, and apply a little soothing aid such as lavender, Animal Scents, Purification or all of the above…and always Valor since young dogs and puppies can be rather dramatic at times – especially Great Danes lol!
A few days ago Meshach came home with a sticker that seemed to be stuck rather good which he managed to work out of his foot himself. When I checked the foot later though he had licked it a lot to the point the whole area between the foot pad and toe pads was a rather pink, slimy looking mess. These stickers can make the whole foot irritated.
Since Meshach had done a thorough cleaning of the foot himself (they do have healing properties in their saliva) and had also removed the sticker, I just dropped a few drops of lavender right onto that area of his foot and left it alone.
I checked it later and the area was back to normal color and the area where the sticker had been was already drying up. He quit licking the foot almost immediately following the application of lavender.
For ant bites (we have a LOT of ants here and quite a variety) I have used these same exact EOs- lavender, Purification and Valor. In addition I have also used the homeopathic remedy Apis 30C. Many people think you can't use essential oils with homeopathy but I know plenty of people who do this using YLEOs no problem. The only EO that I have been told would be a problem is peppermint or any blends with peppermint in it.
Normally what I've done is give the Apis 30C first, then wait a half hour or so and apply the EOs then. I'm an animal naturopath, not a homeopath so I only use the homeopathy for acute situations.
I so LOVE these Young Living Essential Oils!
DISCLAIMER: All information contained in Aspenbloom Pet Care is intended for educational purposes only. It is not provided in order to diagnose, prevent or treat any disease, illness or injured condition of the body or pets and the author, publisher, and contributors accept no responsibility for such use. Anyone or their pets suffering from any disease, illness or injury should consult with their physician or veterinarian. The ONLY essential oils we use and refer to in ALL our posts and articles are Young Living Essential Oils. The statements herein have not been evaluated by the Food and Drug Administration.

Photo Attribution: Meshach the Great Dane by Dr. Kim Bloomer. Copyright 2012 All Rights Reserved.