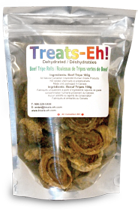 Not all dog treats are created equal. If it is truly to be a treat, then make sure it doesn't turn into a death sentence for your pet. There are some great and viable alternatives to use for training and reward that won't cause harm and in fact can be a little additional nutrition for your dog.
Just do all things in moderation – one of the laws of health. Treats need to be counted as part of the dietary intake for the day.
Here is one more reason you want to do your due diligence when purchasing treats:
FDA releases documents on jerky dog treat investigation; government warnings but no recall
There are viable, safe alternatives. I make my own (see below) or purchase from the following companies:
1. Red Angel Raw – http://www.redangelraw.com/
2. Broad River Pastures Lucky Dog Treats: http://www.broadriverpastures.com/
And there are others just do your due diligence!
To make my own I simply purchase a roast butt, chicken breast, etc. (you can use any type of meat like lamb, turkey, pork, etc. – your choice) and have it sliced thin or if you have a good meat slicer, do it yourself.
Then just pop that into your dehydrator – needs no seasoning and in fact it is better if you just leave the meat as is as dogs don't need the seasoning.
You can make them as chewy or crispy as you desire. For breaking into pieces for training purposes it is easier to make them a little crispier. I usually leave mine a little chewy though as it is harder for carnivores to digest dehydrated meats than those with the moisture in as in raw meat, bones and organs. Then I bag them up in baggies and freeze. I leave the bag I am using in the refrigerator.
Simple, easy and you can trust it far better than anything you purchase from big conglomerates and your dogs will thank you and love you for it. Shadrach and Meshach used to guard the dehydrator when we were making treats to make absolutely certain we did not forget to give them some samples haha!
Have a pawsitively tail waggin', NATUROPATHICALLY healthy day!