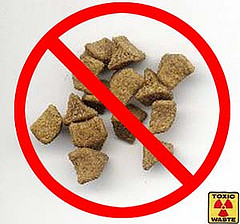 The Truth About Pet Food run by Susan Thixton has an annual contest to vote for the stupidest act in pet food. To quote Susan "Each year major acts of stupidity occur in pet food, however when the votes were tallied, the FDA has always managed to acquire more of your votes. Will the FDA continue to win our award? Or will someone take the prize (the failure) away from them? It's up to you."
Here is the link to go vote: http://truthaboutpetfood2.com/2012-stupidest-act-in-pet-food-award. Veterinarian Dr. Patricia Jordan said, "These 'stupidity acts' performed under the guise of "health" care are not any different than the 'vaccine stupidity' done under the guise of health care, it is always about the money." I concur wholeheartedly!
My feelings are:
1. If I could vote for all of them I would but I had to choose only one, sigh.
2. Stop feeding any kind of commercial feed to ALL of your animals and be done with the whole lot of them.
Nothing about that junk should even be considered or called "food" in the first place. Animals have physiological needs that can't be complete or balanced (no matter the slogan on the labels and in the ads) in the form of a nugget in a bag or some mush in a can.
I don't get why people can't see the logic in NOT feeding that.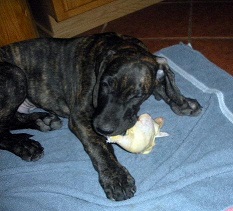 Dogs are carnivores – contrary to popular opinion and myth. All animals are adaptive. So using that excuse doesn't hold water. Domesticity doesn't change their biological, species needs again contrary to popular myth, opinion and pseudo science.
The truth is evident once you are ready to receive it and realize it.
Have a pawsitively tail waggin', NATUROPATHICALLY healthy day!
PHOTO ATTRIBUTION: Great Dane Puppy, Meshach by Dr. Kim Bloomer. Copyright 2011, All Rights Reserved.