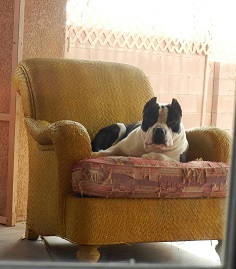 Well a new dog entered our life yesterday…in large part due to our neighbor's dog who we have been walking for the last three weeks.
King is his name and no he is not a Great Dane or a Neo Mastiff as you will read. He is a bull breed, a small little humvee tank with a heart just as big and wide as any giant breed dog!
He has of course missed his family of two other dogs and four children. He is 13 months old so he has to learn our routine, new surroundings, etc. Dogs that have been raised properly as King has, as well as naturally reared also as King has, seem to adapt so much more readily.
However, he was still understandably a little nervous at first. So I used several essential oil blends on him yesterday. Not in great abundance but just to help ease the stress of "first day in a new home".
The oil blends I used were:

Peace & Calming
RutaVala
Stress Away
I let him smell them as well as put a few drops of each at different times during the day along his spine. I rubbed them between my hands first and then pet him with the oils.
Then because he was having some sneezing, reverse sneezing and a little skin irritation that I attribute to the very dry area we are in (it was more moist where he lived prior close to the mountains) and all the sagebrush, etc., out here. So I applied some lavender around his neck and head in the same fashion as above. I also diffused lavender and RC blend together.
He also slept VERY well the first night.
My new inspiration for natural animal care, the use of essential oils, and always to bring joy and love. My new Teacher Dog, King and I will be sharing our journey here in the hopes to help you learn new ways to help your dogs, naturally.
DISCLAIMER: All information contained in Aspenbloom Pet Care is intended for educational purposes only. It is not provided in order to diagnose, prevent or treat any disease, illness or injured condition of the body or pets and the author, publisher, and contributors accept no responsibility for such use. Anyone or their pets suffering from any disease, illness or injury should consult with their physician or veterinarian. The ONLY essential oils we use and refer to in ALL our posts and articles are Young Living Essential Oils. The statements herein have not been evaluated by the Food and Drug Administration.

Photo Attribution: King the American Bully by Dr. Kim Bloomer. Copyright 2013, All Rights Reserved.