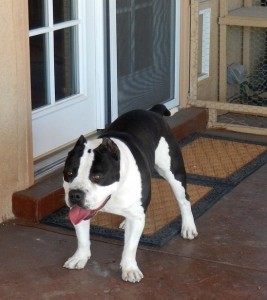 This week I am going to share our latest show with you about nutrition and genetics. Before I do though let me give you a little update on our life with King.
Having a dog again is SO awesome! King is such a gem, so trusting with me when I have to trim his nails, clean ears, and he LOVES being brushed. Last night he went straight into his crate and we left the door open to see if he'd sleep in there without being locked in. The answer? YES he did and did not get out until we got up and invited him out. He's an easy keeper – he eats any sort of raw meat, bones and organs.
He is going through a little detox right now but I know what to do and have all the right tools to help him and that is also working well.
I have to say that even trimming his nails (I used to dremel Meshach's since Danes have great big nails), is so easy with him. He lets me do anything with his feet – even get in between the toes.
One of my brothers came to visit and just fell in love with King – it was mutual 🙂 I am so grateful to Mike for giving King to us. I think after all of our challenges with both Meshach and Shadrach, we were ready for a bit of a break. zhat isn't to say that I regret my life and times with Shadrach and Meshach, because I do not. They taught me SO much and I would do it all again with them. They were worth every minute. They are the reason I do what I do. I am grateful to my sweet boys, forever grateful.
Nevertheless I am grateful for a dog that is a much easier keeper this time so I can focus on helping others with their dogs and just enjoy King. Fridge was an easy keeper too – imagine if I had naturally reared him how easy he would have been!
What does all of this have to do with pet nutrition and genetics? Well we need to know what is causing all of these health issues in our pets. The genetics have been tampered with, severely in fact. There are two major contributors: nutrition and vaccines.
UNLESS we heed this information and turn from our ways back to nature, there are going to be far more Shadrachs and Meshachs in the world or worse…and a LOT less Kings.
Listen to our audio on this subject:
Genetics and Pet Nutrition
Until next time…
Have a pawsitively tail waggin', NATUROPATHICALLY healthy day!
PHOTO ATTRIBUTION: King the American Bully by Dr. Kim Bloomer, Copyright 2013 All Rights Reserved