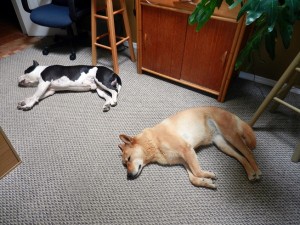 Seems so many dogs suffer from noise and thunder phobias these days. I believe it is because of vaccines, in particular the rabies vaccines as well as the junk food commonly fed to our dogs called "kibble and cans".
Rather than make this a long, drawn out rant about the evils of vaccines and pet food, I'll just encourage you to do your homework in this area to learn a better way.
Now on to essential oil solution.
We recently, (nearly 3 weeks ago) acquired another dog – a seven year old female mix named Schatzie. Her story and a bit of an interesting tale on my little American Bully, King: https://www.aspenbloompetcare.com/2013/06/lost-but-now-found/
Schatzie has been vaccinated and fed kibble her entire life, among other things. Her coat was in very bad shape when we got her, but it is improving with the raw diet, a good bath and daily brushing.
On the 4th of July in the evening when the fireworks started around our area, Schatzie began pacing, panting and trembling. We haven't had a dog that was afraid of fireworks or thunder in many years – the last being our very vaccinated, pesticide-laden, kibble-fed Golden Retriever, Fridge who also suffered from petit mal seizures. I was a vet tech then not connecting the dots I am sad to say. It all caused Fridge to die from cancer – he was an amazing dog and I just began my journey into natural health with him. In fact I began not using pesticides indoors and out because of him.
I digress, so back to Schatzie. I have a calming tincture I used to use for Meshach during his seizures, so I immediately grabbed that to give Schatzie a dropper full. It is called Animals Apawthecary Tranquility Blend. I waited a couple of minutes, and then I got the bottle of Peace & Calming by Young Living, diluted about 2 drops into 5 drops of V6. I rubbed my hands together and gently petted it up her spine to her head. I had learned the hard way that Schatzie is ultra sensitive to the oils – that's because she has a LOT of detoxing to do*. So I typically just diffuse them around her (until more recently). Then I sat by her and just calmly pet her. We closed up the doors and windows so the noise would be minimal. We were watching a movie so that also toned down the sound of the fireworks. Within a few minutes Schatzie was fast asleep.
I hate to see this happening to so many dogs, but I am grateful we have these natural modalities to assist them
through without resorting to toxic, harsh drugs that leave side and after effects. Prevention is the best approach (meaning the whole naturopathic approach to dog care) but until everyone is doing that, we need to assist these dogs that have been subjected to the insanity of vaccines, the pathetic junk kibble masquerading as a convenient food, and the toxic pesticides touted as harmless.
After nearly three weeks with us, Schatzie is now getting more direct contact with the oils. I apply several "neat" to King daily as you know and then I apply the residual to her. Today she stood right by King as I was applying them to him – we are making progress! I apply them outside so she always has the choice to move away or to not be inundated with the scent – she chose to be right there. King has modeled it all well for her also. I can see them doing a little communication that only dogs would understand. She doesn't leave the room I am diffusing oils in any longer. I never force my dogs. I always allow them to make the choice. Schatize is choosing the oils now that she is detoxing.
I hope that her thunder and noise phobia decrease as well.
I feel that sharing these oils is a kindness to help pets and their people be well. They are gentle and they work and I feel I'd be remiss in not sharing them.
Until next time…
Have a fragrantly healthy day!
PS Remember that each dog is unique and will respond uniquely to the essential oils.
DISCLAIMER: All information contained in Aspenbloom Pet Care is intended for educational purposes only. It is not provided in order to diagnose, prevent or treat any disease, illness or injured condition of the body or pets and the author, publisher, and contributors accept no responsibility for such use. Anyone or their pets suffering from any disease, illness or injury should consult with their physician or veterinarian. The ONLY essential oils we use and refer to in ALL our posts and articles are Young Living Essential Oils. The statements herein have not been evaluated by the Food and Drug Administration.

Photo Attribution: King and Schatzie by Dr. Kim Bloomer. Copyright 2013, All Rights Reserved.