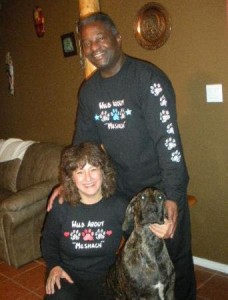 "Vulnerability is about having the courage to show up and be seen." ~Dr. Berne Brown
Back in October a couple of my team members, Dr. Jeannie and I started doing some videos sharing our Young Living experience and a couple of silly little skits, etc. We had to show up and be vulnerable since the video platform we have used, Oovoo, is not the most flattering to our looks and definitely not our egos, especially if you are in the age range of Dr. Jeannie and I! By the way Laurie and Kathy look awesome so maybe it's not Oovoo lol!
But we had to show up, be vulnerable and let go of our egos or any kind of reputation and share our life experiences as well as just being in front of a camera. I FAR prefer to have my dogs in front of the camera than myself. I am used to doing a weekly podcast – that is great because only my voice is heard but I am not seen. Nevertheless Dr. Jeannie and I have made ourselves vulnerable on that show for years as well. As a result we have taken much criticism for our stance on animal health not as much from the allopaths but those in natural health if you can fathom that. But we not only stay in the arena, we keep getting back up whenever we take a hit and are knocked down. Not because we are all that and a bag or two of chips but because we have decided to be vulnerable so that others AND their pets can be well, plain and simple. Actually it is more than really since it is our faith in God that propels us to continue in the face of often much adversity.
"Comfort and prosperity have never enriched the world as much as adversity has." ~Billy Graham
What does that have to do with my, our, your Young Living business? Everything. If you aren't willing to get out there and make yourself vulnerable to share these oils so that others can choose to be well through the gift of your sharing with them, then you are allowing fear to barricade your success AND the wellness, purpose and abundance of others. While we may not all build the business to the height of Diamond and beyond (by choice), one thing I will always do and that is share my own experiences with the oils with the hope that some will choose to also join me in this journey to wellness, purpose and abundance.
And I will share with transparency even if it makes me vulnerable.
If you want to be brave and show up in your life, you're going to stumble and fall that's just part of showing up. But if you're not in the arena getting your butt kicked I'm not interested in your feedback. ~Dr. Berne Brown
So let's show up, get in the arena and embrace the stumbles and falls. And move past the naysayers who just aren't ready to listen or don't have the courage to be in the arena!~Kathy Lacey
(my awesome team member)
DISCLAIMER: All information contained in Aspenbloom Pet Care is intended for educational purposes only. It is not provided in order to diagnose, prevent or treat any disease, illness or injured condition of the body or pets and the author, publisher, and contributors accept no responsibility for such use. Anyone or their pets suffering from any disease, illness or injury should consult with their physician or veterinarian. The ONLY essential oils we use and refer to in ALL our posts and articles are Young Living Essential Oils. The statements herein have not been evaluated by the Food and Drug Administration.
Photo Attribution: Dr. Kim, her husband Donnie and their sweet Dane puppy Meshach. Copyright 2011 Dr. Kim Bloomer All Rights Reserved.