Last month I went to a local dog show to meet my online friend, Erika Haferkorn of Red Angel Raw. I have purchased her treats for my dogs for the last few years. Erika was at the dog show with her Red Angel Raw booth with the variety of her raw foods and all dehydrated meat treats. She also brought some essential oils along as well.
While we were there one woman with a German Shorthaired Pointer pup (5 months of age) came around to check out the dog treats.
This puppy was a bit skittish, shy, possibly a bit overwhelmed by all the dogs and people there. She was definitely not confident in herself. Her owner said that she is always like that and she was hoping to get her more socialized so she could eventually show her.
This puppy would not take a treat from anyone but her owner (which isn't a bad thing) and would not let anyone pet her. She stayed right between her owner's legs in fact.
Erika put a drop of Peace & Calming blend onto her hand, rubbed her hands together and then let the puppy sniff the oil. Within about 30 seconds Erika then started petting the puppy's chest, then her back and head. Yes, by that time she was letting Erika pet her.
Erika didn't have any Valor blend on her at the time so I chose the next best thing, Believe blend. I put a drop in my hand, rubbed my hands together and then slowly, gently pet this puppy who by now was curious about both of us and allowing us to pet her. And she had visibly calmed.
The difference in this puppy from before the oils to after the oils was like being with two entirely different dogs. The puppy was playing, eating any treat we had, happy, relaxed and allowed the owner's friend to check out her teeth – apparently not something she usually does. The owner was SO impressed that she signed up as a customer on the spot. The pup is lovely too so I look for good things for her in her sporting and show events in the future.
Additionally, this lovely little Beagle, Quilley, who's human Kris Hurley YL #1817125 (also now a part of our Oily Family) is allowing me to share how she enjoys the diffuser. Kris had this to say recently about Quilley and the essential oils: "I'm still amused with Quilley – she actively seeks them out, is usually pretty specific about which ones she wants, and takes a good whiff or two and then is on her way."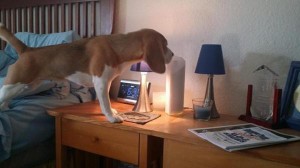 It is amazing to watch how animals respond to the essential oils. They are all different.
My Neo Mastiff, Shadrach, absolutely LOVED the oils, and especially enjoyed his weekly raindrop technique. He would sniff three times without fail every time I held a bottle up to him. My sweet Dane boy, Meshach, didn't respond overtly to them either way but we used them with him lightly at any rate. My American Bully, King, wasn't too sure about them when we first got him and introduced them to him since he was so stressed his first day with us. But now, when he sees me get the oils out, he always wants to be a part of it. He seems to especially enjoy his weekly massage the raindrop oils incorporated into it in much the same fashion as Shadrach did and he LOVES when I use the feelings/emotions oils on myself. He usually comes to join me in my quiet room as I do the emotional release technique on myself. I pet any residual oils left on my hands on him of course 🙂
My female American Dingo Schatzie is quite different than the boys. When we first got her, she was having a lot of thunderphobia during storms so I used Peace & Calming and Stress Away which worked VERY well. However she is more sensitive to scents due to the toxicity of her body from all the terrible kibble, vaccines, etc. she was subjected to prior to coming to live with us so I use them very lightly with her – primarily diffusing them. She will lay close by when I do the raindrop on King and whatever residual I have I apply to her lower back away from her face.
She used to move away from the diffuser at first but now she doesn't appear to mind it at all. I never force her to stay, or have any oils put on her. It is her choice. Most of the time she stays. Today was interesting. I went into my quiet room to put on the emotions oils and do the emotional release. King always comes along with me but at some point during it he left. When I turned around lo and behold there was Schatzie! I stayed calm as I didn't want to get all excited, happy to see her hanging out with me while I was using the oils. Talk about progress!
All of this to say, I absolutely LOVE all that the oils can do to support us and our dogs in our wellness journey, naturally!
Until next time….
Have a pawsitively tail waggin' NATUROPATHICALLY healthy day!
DISCLAIMER: All information contained in Aspenbloom Pet Care is intended for educational purposes only. It is not provided in order to diagnose, prevent or treat any disease, illness or injured condition of the body or pets and the author, publisher, and contributors accept no responsibility for such use. Anyone or their pets suffering from any disease, illness or injury should consult with their physician or veterinarian. The ONLY essential oils we use and refer to in ALL our posts and articles are Young Living Essential Oils. The statements herein have not been evaluated by the Food and Drug Administration.