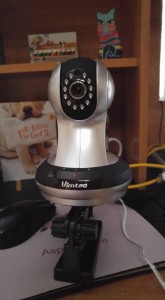 A couple of weeks ago I shared a post with you about a pet spy camera that I was asked to review – What Is your Pet Up To When You Are Gone?. My husband and I will be using it to keep an eye on our dogs when we are not home – spying on them if you will.
It is SUPER easy to set this Vimtag camera up using an app and your computer router. Super easy and then after set up you can set it up wherever you like, in fact you can purchase several and set them up in various places. You can check in on your pets through your phone app.
It was pretty funny, when I was setting it up as I was on my phone of course getting the app set up and I had the camera pointing right at me – which I didn't actually realize. I suddenly see myself on the phone with my camera in my hand and I was like, "What? That's weird" – duh lol. Okay so I am slow on this stuff.
I'll be honest and say I haven't used it on my dogs yet because one of us has always been here so there hasn't been a need but with the holidays coming I KNOW at some point there will be multiple opportunities to use it and it is SO easy – I know I said that already but it is!
I am curious as to what they are doing if anything when we're gone. I bet Schatzie is just sleeping but King, who knows the little monkey. Anyway they may both prove me wrong and that is what I am the most curious about, but I am also excited to know I can check in on them and make sure they are okay.
The photo of it is on my desk so you can see the size of it – it's not huge but it does the job needed. I'll post an update on this post after I can share with you what my dogs have done or not done while we're away as this spy cam also of course takes snapshots.
The silver model I have costs $99, so it is very affordable to ensure that you can keep an eye on your pets while you are away. For more information just go to the link here: Vimtag camera.
Wishing you all a safe and joyous holiday season, that your pets are safe too. Remember that New Year's Eve with all of the noise can be alarming to your pets so this is just one more way to keep your pets protected.
Until next time….
Have a positively tail waggin', NATUROPATHICALLY healthy day!