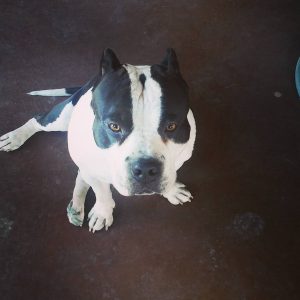 "Everything I know, I learned from dogs." ~Nora Roberts
Today I just want to mention my handsome little man dog King AGAIN and how God has used him to facilitate MUCH needed change in my life. King is the reason I have learned SO much about using the essential oil blends by Young Living (the only ones I use) for our emotional support. At first I thought it was for him since I thought HE was the one with the issues but in actuality it has been more me than him all along. I am SO grateful he came into our lives (mine and Donnie's) to share his amazing self with us but also it's just the way God has always used to teach me what I need to learn – through animals. This began my real journey into spiritual and emotional restoration.
As an animal naturopath I can tell you, that I am willing to bet at least 80% of what is wrong with the animals in our care IS us! Animals don't have filters like we do – it all goes in and they are SO much more tuned in so it is even more impactful to them. When we are a mess, that translates to them in a BIG way. So in order for them to Be Well, WE must be well and work on ourselves alongside of supporting them – in a whole health lifestyle. I'm not a proponent of using natural remedies to replace conventional drugs as that is a very allopathic way of thinking. I'd far rather encourage a whole health lifestyle, following the laws of health which includes species appropriate nutrition while using the modalities/remdies as support and harmonizing.
During the Young Living Essential Oils convention last month I had the privilege of receiving a vibrational raindrop performed by a wonderful LMT named Allison. I have wanted one for a very long time. My need/desire was granted finally in a private home, arranged by my sweet friend Breanne Altherr. She and another sweet friend Kathy Lacey were there with me during the raindrop. What an experience it was! I was not myself during convention at all after that and I know this is why. However, don't let that scare you off from experiencing a vibrational raindrop because when I came back home after convention it was like a reset button had been pushed in me. Well, reset doesn't really describe it though. It was more like I was RENEWED as a whole new person! During the process though (while being at convention no less) I was a total mess. I tried to mask it but I know Bre, Kathy, Wendy, and Nina who were with me the most were probably not fooled. It's a good thing they are kind and loving women!
Things have radically changed for me since however – for the better. Prior to this I had been using the AromaDome weekly to assist me in this area as well and had some wonderful breakthroughs while in the "Dome" diffusing various oil blends while in prayer. This is something I still do although it hasn't been as often (weekly prior).
I have never been afraid to experiment with the these essential oils when it comes to supporting my body systems and those of my dogs. Now that I have been experiencing major benefits in my soul (mind/will/emotions) and spirit I can say I'd do it all again to get to this better place! No fear, just amazing love and restoration day by day. My only caveat is understand this is a journey not an arrival. Being renewed to be transformed daily.
I invite you to journey with me.
"22 It is of the Lord's mercies that we are not consumed, because his compassions fail not.23 They are new every morning: great is thy faithfulness." ~Lamentations 3:22-23, KJV
Until next time…
Have a tail waggin', NATUROPATHICALLY healthy day!
The information I, Dr. Kim Bloomer, share here on Aspenbloom Pet Care represents what I, an animal naturopath and an Independent Distributor of Young Living Essential Oils, have chosen to do to take charge of my own personal health and that of my family and pets. Statements shared in this blog post have not been evaluated by the Food and Drug Administration. The information shared in this post are not meant to diagnose, treat, cure, or prevent any disease and is provided for educational purposes only. Information is meant for educational and informational purposes only, and to motivate you to make your own health care and dietary decisions (and those of your pets) based upon your own research and in partnership with your health care provider. Make your own informed decisions through your own personal responsibility and due diligence.
*The ONLY essential oils I am referencing are Young Living Essential Oils.
PHOTO ATTRIBUTION: King the American Bully by Dr. Kim Bloomer, Copyright 2016 All Rights Reserved