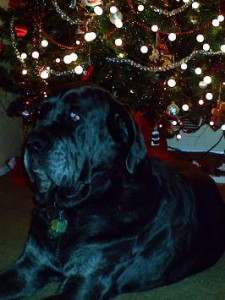 I want to wish you all a very blessed and joyous Christmas weekend AND to share a brief bit about my own Young Living Story – it really is my and my dogs health and wellness story in short. This is the message I shared with my Young Living team today, but I am also SO grateful to those who have read this blog for years when Shadrach was the one writing it.
My story all started with an absolutely amazing (if I must say so myself) Neapolitan Mastiff named Shadrach.
If it weren't for him, I'd not have been searching for a more excellent way of care and wellness. He moved me outside of my conventional veterinary technician thinking to give him the life I felt he deserved. I came to Young Living, rather reluctantly, for his sake. My wonderful sponsor, Don Slepian, kindly sent me the animal products to support his skin at the time – without expecting anything in return. He just sent them. And I used them. And Shadrach began improving PLUS we discovered the root cause of his problems. 
From there forward I could not look back. I moved into whole health with my whole heart. I became an animal naturopath as a result, but my beginnings were because of Shadrach and Young Living. I got into this for health and wellness, NOT a business. Then I learned how I could share with many more through the business. That said, my focus will ALWAYS will be health and wellness. Always.
I have shared my story numerous times and in more depth but that is the gist of it. I thank God for bringing this amazing dog into my life and as a result it has completely changed. I am so grateful. I am grateful for the integrity, quality and efficacy of Young Living Essential Oils. For the persistence of Gary and Mary Young.
I am grateful for all of you. I am grateful for those of you who have challenged me in so many ways to get over myself and be better – for you and for myself. Thank you.
Wishing you all so much Joy, Hope, Love and Wellness this Christmas – and always.
PS My story in video is available on the website our upline Platinum, Sue Pelechaty has so generously had built for her entire team – for education and support. http://selfcareglobal.com/kimbloomer/
Until next time…
Have a pawsitively tail waggin', NATUROPATHICALLY healthy day!
PHOTO ATTRIBUTION: Shadrach the Neo Mastiff by Dr. Kim Bloomer, Copyright 2005. All Rights Reserved