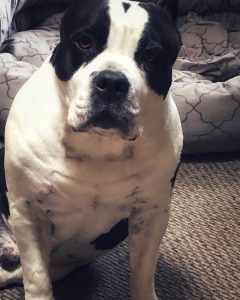 Hi humans, we're carrying on with Part 2 of this series on using essential oils with your canine. You know I get to have oils every day. I'll share more on that in the last part in this series okay? I hope I remember hehe.
Today we're going to talk about what essential oils are and also Mom is going to share how Shadrach helped her learn some very important lessons in life. We dogs always do, WOOF!
much more potent than the fresh or dried plant itself, so a little goes a long way. So here we go…
"As with anything we get from nature, the source material is very important. There are many different qualities of oils on the market, so it's important to ask the following questions:
What plants did the oils come from?
Different plants may produce similar oils, but you need to make sure you have the right one for the maximum benefit.
Is the plant grown organically or saturated with pesticides? Is the soil nurtured so that the plant can flourish?
Is the oil extracted in a way that preserves the benefits from the plant?
If done incorrectly, the quality of the oil can be compromised.
Is the oil tested to ensure that it contains all of the constituents necessary for the oil to be consistently effective?
These are living plants and things like number of hours of sunlight and rainfall while growing can make a difference in the oil they produce.
Is the final product diluted or adulterated with chemicals prior to being bottled or 100% pure?
These questions will be answered during our presentation when we share Young Living's Seed to Seal promise with you.
Please note that many of the oils we mention in this class are not animal specific, they are what we have chosen through our own personal experiences to utilize and apply to our animals. The essential oils and products mentioned in this class are not intended to diagnose, treat, cure or prevent any disease. If your dog is pregnant, nursing, taking medication, or has a medical condition consult your veterinarian before using these products."
How do you use essential oils?
Aromatically:
When you diffuse oils, you are inhaling them and processing them through your olfactory system.
Diffusers, like the one that comes in the premium starter kit, break down oils into micro molecules and project them into the air.
Topically:
Essential oils can be applied to the skin through which they are easily absorbed. If you have never used essential oils, one great area of the body to apply them topically is to the feet. See the below graphic for some tips on using the oils.
Internally:
Some people choose to use essential oils internally by adding them to water or liquid, placing them in capsules, or taking one of Young Living's oil infused products.
Young Living has a whole line of oils called Vitality Oils so it takes the guess work out of which oils are appropriate to take internally!
Now here is Mom's story about how Shadrach taught her some very imPAWtant life lessons:
Stay tuned for Part 3 next week! Be sure to check out Your Essential Canine Page to learn more about the presenters of this class and more, thank you!
Be sure to check out my (King) Pack Member Page to learn all about me, aka Buddy Dude or Doodle Bug!
Until next time…
Have a PAWSitively, tail waggin', NATUROPATHICALLY healthy day, WOOF!
DISCLAIMER – PLEASE READ
🎼Father God is the Musician, we are the instruments
🙌Jesus is the Song 🎼
💧Holy Spirit is the tuning fork🎻
🌱Health is the harmony 🎷
🐕Dogs are the chorus 🎤