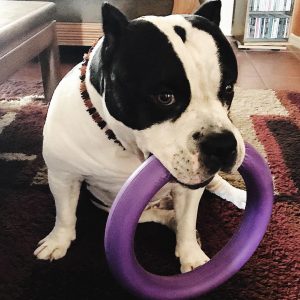 Hello humans, FINALLY we are back this week with Part 4 of this 5 part class on using the Young Living Essential Oils with your dog! I'm glad I got to be the dog to facilitate this lesson rather than Shadrach, especially since while I do get oils on me daily, Mom just doesn't use them as liberally with me as she did with Shadrach. He loved ALL the oils. Each dog is different so PAWlease keep that in mind as I keep barking humans.
This time we're going to go OUTDOORS but be annoyance free, WOOF! That's the best…I just want to sunbathe, sniff things, mark, relieve myself, and chase other animals out of my yard. I don't want to be bugged though ya know?
We dogs LOVE being outside with our humans, that's the best! My favorite is being with my Dad going for walks, he's my best friend.  This short video shows you how easy it is to make a spray that will allow YOUR dog to enjoy being a dog – and still smell good to humans hehe. Our PAWsome friend Bre created this DIY recipe!
WOULD YOU MAKE THIS SPRAY SO YOUR DOG COULD ENJOY BEING OUTSIDE ANNOYANCE FREE?  
Mom goes into this next video on why it's imPAWtant to take care of the environment, which means not using pesticides, herbicides and all those other "cides." Did you know that means KILL? Yes, that's what "cide" means. Like homiCIDE, get it? These things don't just kill weeds (many of which are actually beneficial PLANTS wrongly denigrated humans like dandelions), and bugs. Nope, over time they can wreck havoc on every beneficial thing in the environment as well as humans and animals, WOOF! As we say in New Mexico, no mas bueno humans.
While most of Young Living's extensive line of oils can be used both on you and your dog, they have a whole line of products designed especially for our pets.
Lastly in this lesson, did you know that Young Living has an entire line of essential oils just for us animals? Yes they sure do!
The Animal Scents collection includes a shampoo, ointment and six different essential oil blends for ANIMALS:
PuriClean – cleanse and refresh the skin
Infect Away – supports a healthy skin barrier
Mendwell – supports healthy skin repair
ParaGize – helps promote healthy digestion
RepelAroma – helps to enjoy the outdoors without annoyance
T-Away – help animals cope with emotional blocks
This is an older video Mom did when these oils first came out for us animals, but all the oils are still available except RepelAroma at this time. The big spray bottle of RepelAroma isn't available either…hmmm, I wonder why bePAWs it really worked! You know that the 3 letter agencies often get involved in stopping the good stuff and only allowing the bad stuff. Just saying.
Okay humans, that's it for this time, next week we'll finish up this class. Be sure to check out Your Essential Canine Page to learn more about the presenters of this class and more, thank you!
Be sure to check out my (King) Pack Member Page to learn all about me, aka Buddy Dude or Doodle Bug!
DISCLAIMER – PLEASE READ
🎼Father God is the Musician, we are the instruments
🙌Jesus is the Song 🎼
💧Holy Spirit is the tuning fork🎻
🌱Health is the harmony 🎷
🐕Dogs are the chorus 🎤