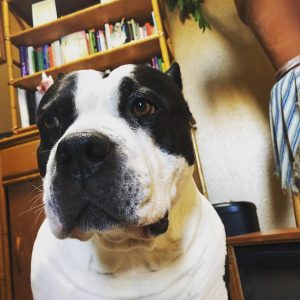 Hi humans! I know, I fudged it as I said we'd complete this class last week, but that wasn't my fault, besides, Mom wanted to make sure that humans had help keeping their dogs calm during the upcoming human fireworks celebration. I'll link that post below for you just in case you missed that post, WOOF!
This is the conclusion of this class, but I wanted to be sure and let you know why we choose and use only Young Living. It's VERY imPAWtant!
As I mentioned earlier, it's Young Living's Seed to Seal promise that really sets them above any other essential oil company.
Be sure to visit the full detailed site at http://www.seedtoseal.com
There is no such thing as a "magic bullet" when it comes to natural wellness (ANY wellness!) – it's more like a jigsaw puzzle where you have to fit all the pieces together to see the full picture. Our good friend Wendy shares the pieces of that puzzle in this video and puts it all together for you.
This portion right here is for those of you who are not YET a Young Living customer (or brand partner). Young Living's Starter Bundle is an incredible value. It comes with a diffuser which is a grrreat way to introduce your dog to the oils; the premium essential oils collection, which includes many of the oils we've discussed in this class. Just check out this page to learn more about ordering and ALL the benefits : https://www.aspenbloompetcare.com/shop/aromatherapy-for-dogs/to-order-or-join-young-living-essential-oils/
On the kits, you can check out the various ones here – of course we hope you sign up with one of us who presented in this class of course, but we also want for you to be happy humans so choose the person you know will help guide you and you'll enjoy: https://www.youngliving.com/en_US/opportunity/products/starter-kits
Once you experience Young Living's products for yourself and your dog, we know that you're going to love them. A great option that is offered is the Loyalty Rewards program. When you sign up for this monthly autoship, you get discounted shipping and earn points towards free products. The longer you participate in the program, the more points you earn. Once you sign up, your sponsor will be happy to explain this great program to you if you are interested. After all, we all like earning free oils!
Thank you for joining us, this is the last part of Your Essential Canine class! We hope you've enjoyed the class and learned something useful for your family – both four legged and two legged. It's obvious you love your canine companions and would do anything for them, so contact one of us or whoever invited you to this class so you can get your SB (Starter Bundle) as soon as possible and start down the path of wellness if you aren't already a YL customer or brand partner. If you found us through an invitation from one of us get back with that person. If you found us on your own, then you can get started with one of us – choose whoever resonated with you the most, after all that person is going to be your guide and confidante in Young Living! If you are already a Young Living member, then stay with your sponsor and put your new DOGgone Oil-ucation into practice!
Reminder, starring ME, King the American Bully (I was 5 years younger then as you can see) and my angel girlfriend in heaven, Carolina Dog extraordinaire, Schatzie!
Laugh a LOT! Laugh a lot & have fun in life! Check out our short Bloopers video hehe:
"Laughter is important, not only because it makes us happy, it also has actual health benefits. And that's because laughter completely engages the body and releases the mind. It connects us to others, and that in itself has a healing effect." ~Marlo Thomas
Thank you so much for being a part of this with us! We hope it helps you and your dogs live better, live well, live HEALTHY! Photo of our friend Angela Rector's dog enjoying the diffuser with YL oils in it – by his own choice! Their noses KNOW when it is the best oils on the planet!! Here is the post I promised on keeping your dogs calm through the summer festivities, thunderstorms, etc: Calming Solutions for Dogs
Be & live well yo! Thank you for being with me through this journey humans, I hope you learned a LOT of oily goodness for your essential canine, WOOF!
Until next time,
Have a PAWSitively, tail waggin', NATUROPATHICALLY healthy day, WOOF!
Be sure to check out my (King) Pack Member Page to learn all about me, aka Buddy Dude or Doodle Bug!
DISCLAIMER – PLEASE READ
🎼Father God is the Musician, we are the instruments
🙌Jesus is the Song 🎼
💧Holy Spirit is the tuning fork🎻
🌱Health is the harmony 🎷
🐕Dogs are the chorus 🎤