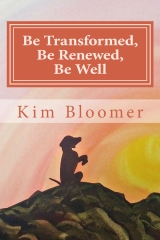 This book is a wellness allegory I wrote to share with one of my business organizations as encouragement and support. I wanted to show them how to share in a way that focuses on health and wellness over disease and illness. I wanted to show them how God created us in His image as a beautiful symphony that when in harmony with Him and His word, we can be well.
My own story became an allegory told in third person (and in FIRST DOG) so as to take the focus off of me and put it on the message instead – that was my creative side taking over as well. I use this e-book to show how God teaches us with the entire focus on being well – spirit, mind, and body.
In his book, Absolute Surrender, Andrew Murray stated that the reason we don't have more blessings is because we don't honor the Holy Spirit, as we ought. I hope that this book helps us to all take a look at how we can honor the whole temple of the Holy Spirit our minds, hearts, feelings, attitudes, as well as our bodies thereby in our actions allowing the harmony of His symphony to be evident in every area of our lives so that we can Be Well.
Dr. Kim Bloomer
This book is in print only currently, cost is $5.38 per copy: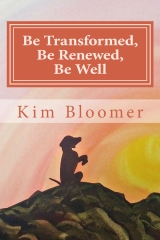 https://www.amazon.com/Be-Transformed-Renewed-Well/dp/1537537164/
Here is what veterinarian, Dr. Hugh Bassham, author of Better Health and a Plan to Achieve It, had to say about this video: "Kim, Outstanding! Unique! Interesting! Informative! Impressive! But coming from you it is not surprising! My congratulations on an excellent and thoughtful presentation which should make everyone who sees it think!"
You can receive this book free in two different ways
1. When you purchase my DOGgone Wellness plan, you'll receive the newly edited and better version of this book in PDF format.
2. By listening to the original audio version on my podcast, DOGgone Truth.
 Available on the podcast:







TESTIMONIALS:
Kim,
I went to the Post Office yesterday and there in my mailbox was a big surprise–your book! Thanks. Thanks too for what you wrote to me in the front. When I read this the first thing I thought of was Proverbs 16:24 ( Amplified Bible )
"Pleasant words are as a honey comb, sweet to the mind and healing to the body."
Your book is unique and thoughtful and should be read over and over so that the readers get the full meaning of your message. My hope is that many will want it, read it and be as appreciative of it as I am. I can see this happening.
Of all of your talents writing just might be at the top of the list…
In health and wellness,
Dr. Hugh Bassham
Author of Better Health and a Plan to Achieve It
http://www.BetterHealthAndAPlanToAchieveIt.com
Matthew 4:23
___________________________
November 11, 2016
"Dearest Kim,
…I decided I was going to read your book today. I cried and smiled and cried and smiled and mostly cried!💕
I enjoyed every Word of it! I could feel your love and kindness and patience too through the pages of your book. I felt blessed to know all the dogs except for your Golden One. Which brought me back to my childhood dog Rusty Bell. I am so glad you were encouraged to write this book Kim. What a healing to your soul it has been! For you and for others.💜 The message of Christ is plain and simple through the love and life of your dogs. I cry when I think of how our Lord used your precious dogs to further his kingdom in you!!!" ~Maggie Putnam