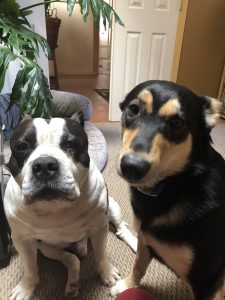 It is my goal to provide your dogs with a selection of species appropriate whole food supplements and effective natural remedies to support their bodies – we can discuss these privately as none are currently being shared on this website. I not only research each product but these are products I have used and/or currently use with my own dogs. This enables my customers and clients to purchase and use these products with confidence knowing they are tried and tested by an animal naturopath.
I am an affiliate for all of the products listed on this page.
In addition to providing you with personally tried and tested products, our goal is to educate clients and customers on species appropriate feeding and lifestyles for their canine companions and assist with healthy choices versus commercially popular ones.
BOOKS
PRODUCTS
1. Probiotics & Enzymes for Pets – Pet enzymes, soil-based probiotics, and herbal remedies to support the overall health and well being of your dog & cat. Enter the coupon code drkim10 and get 10% off at checkout.
2. Essential Oils – I've used these for my own family for many years, human and canine. These are the only ones I will use in fact.
3. Safe Sleeve – protection to place on your electronic devices for EMF protection
4. WholeTones Music Project – calming, uplifting, healthy music for you and your pets! Watch the blog here to get updates on upcoming sales.
5. Herbal Remedies for Pets – Liquid herbal remedies, veterinarian formulated to support your pet's wellness needs. New customers use Coupon Code: TENF1A to receive 10% off your total order at checkout.