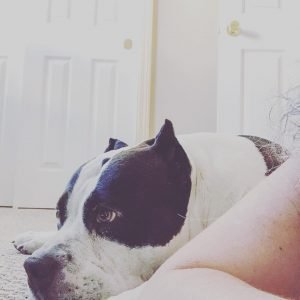 DOG-ilates, or Dog-lates or combat Pilates. Have you ever done or experienced this? It's quite a workout AND experience 😂😜🐕.
It's quite the intense workout actually. It involves your chosen dog sitting on your head or any prone surface of your body while you attempt to go through your Pilates routine. It can be quite an intense workout. 🤣
But guess what else you receive? An additional benefit of lots of laughter which by the way can boost your immune system for up to 24 hours! It's true, I'm not kidding! 😁🐕
This photo was towards the end of today's workout and I think King was quite proud of his accomplishments! 😂🐕
I'm considering patenting this workout method since every dog I've had since beginning Pilates has joined me to create Dog-lates. They think it's really fun! 😂😂😂😜
Let me know your experience with this. I've had various breeds as well so it isn't limited to any specific breed. 🙌🐕😁🤣😜
Until next time…
Have a PAWsitively, tail waggin', NATUROPATHICALLY healthy day!
[author] [author_image timthumb='on']https://aspenbloompetcare.com/wp-content/uploads/2015/03/schatzie_me_king_2014_2.jpg[/author_image] [author_info]Kim Bloomer, V.N.D., N.D. is an animal naturopath as well as being certified in small animal nutrition, with years of experience in animal wellness. Dr. Kim is a published author, writer, blogger, and host of the DOGgone Truth podcast. Copyright 2019 Aspenbloom Pet Care, Dr. Kim Bloomer, All rights reserved. No part of this article may be reproduced in any form without the written consent of the Author/Publisher. This article is intended to be educational. However, it is not intended to be a substitute for diagnosis or treatment from a qualified animal health professional. Dr. Kim Bloomer and Aspenbloom Pet Care, do not assume any legal responsibility for misuse of any possible products discussed in this article. [/author_info] [/author]