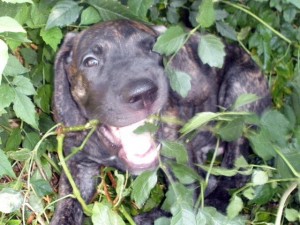 Our new little brindle Great Dane puppy, Meshach has arrived! He came to us on Sunday morning, August 7th. He has been naturally reared and is off to a great start as a result.
As summer winds down, the bugs are preparing for their own winter survival so they ramp up their efforts at this time to reproduce. It's a jungle out there so we must be extra vigilant to ensure the health and well being of our dogs.
As insurance to support and enhance his immune system* as his young immune system develops, I am using the Young Living Essential Oils on him externally. He LOVES to play in the trumpet vines and bushes.
In addition, you can place planters of the live lemongrass plant around your yards and patios because mosquitoes really don't like this plant. We also use food-grade diatomaceous earth prudently around the yard – which also helps keep the ants under control. Ants eat the larvae of fleas and also work in a symbiotic relationship with butterfly larvae (catepillars)so they are good, but they can also get too abundant if not kept in check.
It doesn't take much to support our dogs if you are diligent and feed a species appropriate raw diet to keep their immune systems strong, naturally!
DISCLAIMER: All information contained in Aspenbloom Pet Care is intended for educational purposes only. It is not provided in order to diagnose, prevent or treat any disease, illness or injured condition of the body or pets and the author, publisher, and contributors accept no responsibility for such use. Anyone or their pets suffering from any disease, illness or injury should consult with their physician or veterinarian. The ONLY essential oils we use and refer to in ALL our posts and articles are Young Living Essential Oils. The statements herein have not been evaluated by the Food and Drug Administration.

Photo Attribution: Meshach the Great Dane by Dr. Kim Bloomer. Copyright 2011 All Rights Reserved.