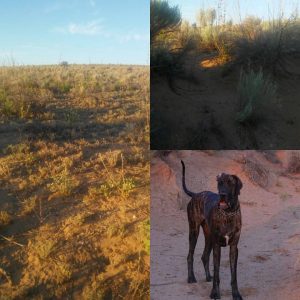 Yesterday morning on my walk with my Carolina Dog, Schatzie, I was deep in thought and prayer. I happened to glance to my left and the hill in the photo was my view…the same one my sweet Meshach (Great Dane in photo) used to dash up with sheer, unbridled delight.
I had to squat down and simply allow the sorrow of his loss to wash over me. My sweet girl Schatzie sat by me with my arm about her, as I allowed myself to embrace the entire scene and moment remembering.
It has been almost 4 years ago now that we lost Meshach. A tragic loss, yet his short life forever altered my own.
No matter who we have lost, animal and human, in war or otherwise we can remember them all and hold them close in our hearts always. This year on that particular day, my heart was remembering this very special dog, Meshach.
Maybe, some day I'll be able to tell the entire story that encompassed everything I learned from him.
Until next time…
Have a positively tail waggin', NATUROPATHICALLY healthy day!
[author] [author_image timthumb='on']https://aspenbloompetcare.com/wp-content/uploads/2015/03/schatzie_me_king_2014_2.jpg[/author_image] [author_info]Kim Bloomer, V.N.D., N.D. is an animal naturopath as well as being certified in small animal nutrition, with years of experience in animal wellness. Dr. Kim is a published author, writer, blogger, host of the DOGgone Truth podcast. Copyright 2018 Aspenbloom Pet Care, Dr. Kim Bloomer, All rights reserved. No part of this article may be reproduced in any form without the written consent of the Author/Publisher. This article is intended to be educational. However, it is not intended to be a substitute for diagnosis or treatment from a qualified animal health professional. Dr. Kim Bloomer and Aspenbloom Pet Care, do not assume any legal responsibility for misuse of the products discussed in this article.[/author_info] [/author]