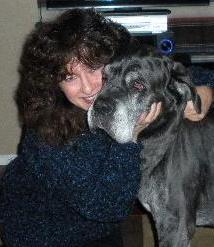 Wow 7 years ago today this photo was taken of me and Shadrach! What an amazing dog he was!!
In this photo he was 9 years old. He was wholly naturally reared from the age of 4 until he passed away naturally here at home at 4 months shy of 12 years old – in spite of his abusive, neglected start prior to coming to us and the conventional rearing until age 4! The power of a whole health approach was so evident in him!! Often those conventionally reared of his breed live to about 8 years of age with quality of life waning rapidly each year.
Shadrach took his normal walk the last day of his life and ate his normal raw meal. His heart finally gave out but he lived out his life with a much fuller measure of quality. I venture to say it would've been even fuller had he lived all his years naturally. That quality increases with each generation that is naturally reared lessening the epigenetic damage.
To ensure the health and well being of our animals natural rearing is the only option.
[author] [author_image timthumb='on']https://aspenbloompetcare.com/wp-content/uploads/2015/03/schatzie_me_king_2014_2.jpg[/author_image] [author_info]Kim Bloomer, V.N.D., N.D. is an animal naturopath as well as being certified in small animal nutrition, with years of experience in animal wellness. Dr. Kim is a published author, writer, blogger, host of the Animal Talk Naturally podcast. Copyright 2018 Aspenbloom Pet Care, Dr. Kim Bloomer, All rights reserved. No part of this article may be reproduced in any form without the written consent of the Author/Publisher. This article is intended to be educational. However, it is not intended to be a substitute for diagnosis or treatment from a qualified animal health professional. Dr. Kim Bloomer and Aspenbloom Pet Care, do not assume any legal responsibility for misuse of the products discussed in this article.[/author_info] [/author]