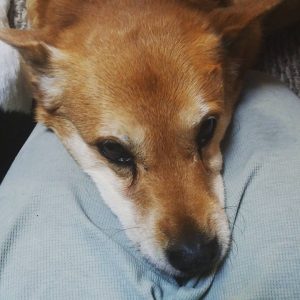 This is my sweet Schatzie girl…that isn't a stain on my pants, it's her drool and licking stain lol. She always licks and drools on my pants when she has her head in my lap – silly girl.
She is now into her 11th year. She is my steadfast daily running partner – my best running partner EVER.

Schatzie had a rough 7 years before coming to us, but she is truly thriving now after all she has been through. She was conventionally raised and often left to her own devices as she lived outdoors. She is very resourceful as she is so close to her feral state as a domestic dog can be, and she learned to care for herself to the best of her abilities. She definitely can scavenge and hunt! I'm sure this was her saving grace.
When she came to us she definitely was unwell but she has since grown strong and even after a rough summer in 2015 she has rebounded now stronger than ever. She never ceases to amaze me quite frankly. My husband and I are so happy to have her as part of our family. She is SO loyal!
Her funny, silly, and at times very bossy self has emerged unscathed.
She is my Beauty Queen, Running Wolf, Pretty Girl, Good Girl, Schatzie Ahtz! 🙂 Goes to show what natural rearing will do!
It is never too late to start.
Until next time….
Have a positively tail waggin', NATUROPATHICALLY healthy day!
[author] [author_image timthumb='on']https://aspenbloompetcare.com/wp-content/uploads/2015/03/schatzie_me_king_2014_2.jpg[/author_image] [author_info]Kim Bloomer, V.N.D., N.D. is an animal naturopath as well as being certified in small animal nutrition, with years of experience in animal wellness. Dr. Kim is a published author, writer, blogger, host of the DOGgone Truth podcast. Copyright 2018 Aspenbloom Pet Care, Dr. Kim Bloomer, All rights reserved. No part of this article may be reproduced in any form without the written consent of the Author/Publisher. This article is intended to be educational. However, it is not intended to be a substitute for diagnosis or treatment from a qualified animal health professional. Dr. Kim Bloomer and Aspenbloom Pet Care, do not assume any legal responsibility for misuse of the products discussed in this article.[/author_info] [/author]