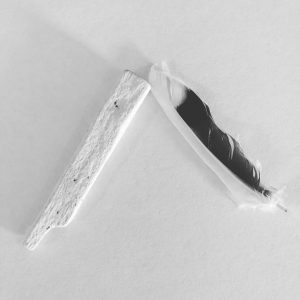 A couple of mornings ago I found both of these almost next to one another. The feather is from a little sand owl who has her nest in a mesa cleft we walk past each morning. She flew off with her meal (mouse or squirrel) as we came upon her and left a feather in the process. 🦅
I don't know what the other is but it matched the feather and feels like a sand dollar in texture. 🤷🏻‍♀️
I'm sharing because I find things out here on our desert walk 🌵 all the time that just intrigue me. I see them all as little gifts from God he leaves like a little treasure hunt for me. 🕊
The last few days I've seen the owl 🦉 up close, new desert flowers 🌸 I thought I'd not see until next year, a hawk circling for a hunt, and a coyote with a rabbit in its mouth that ran out in our path except I'm the only one who saw it because my husband Donnie and my American Bully, King were looking back at my Carolina Dog, Schatzie sniffing something so they ALL missed it! The coyote paused to look at me then disappeared very quickly and quietly into the brush with its meal.
I'm so fascinated by all of this. The amazing sunrises and all the abundant life (and yes death also – circle of life) around me. Nature. Stark desert that is FAR more than just sand as so many think. 🌵🌞
Thank you Father for all the big and small glimpses of your magnificent creation!!! 🙌💖 thank you also for teaching me to appreciate the animals and nature just as they are.
Until next time….
Have a pawsitively tail waggin', NATUROPATHICALLY healthy day!
PS the DAILY walks honor TWO of the laws of health: Exercise and Fresh Air and I get to experience all of this in the process! And so do my dogs and husband!!
[author] [author_image timthumb='on']https://aspenbloompetcare.com/wp-content/uploads/2015/03/schatzie_me_king_2014_2.jpg[/author_image] [author_info]Kim Bloomer, V.N.D., N.D. is an animal naturopath as well as being certified in small animal nutrition, with years of experience in animal wellness – co-founder of the former online school, American Council of Animal Naturopathy. Dr. Kim is a published author, writer, blogger, host of the DOGgone Truth podcast. Copyright 2018 Aspenbloom Pet Care, Dr. Kim Bloomer, All rights reserved – photo and post. No part of this article may be reproduced in any form without the written consent of the Author/Publisher. This article is intended to be educational and inspirational.[/author_info] [/author]