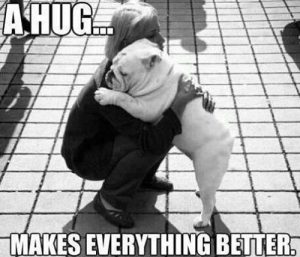 On the day after St. Patrick's day I shared the following post on Facebook because my own sister took her life on St. Patrick's Day in 2016. When I shared that, so many people shared virtual hugs with me. It made me think more about the healing power of hugging. Which then got me started thinking about healing myself from a recent two day acute illness. I healed myself for free, with the exception of my essential oils. No doctor visits. So I decided to look into other things that help us heal naturally without any money investment, which includes hugs and laughter.
"Thank you to all of you who shared such well wishes with me yesterday. This is why I said how much hugs help.
My dog King isn't much for hugging but our girl Schatzie who passed away in January 2019, she totally was into it. After such neglect I'm sure it just made her feel loved. Dogs are different in how they show affection within their own society but I'm willing to bet they benefit from it as well.
King does let me hug him but he's not as into it as Schatzie was."
Until next time…
Have a PAWsitively tail waggin', NATUROPATHICALLY healthy day!
[author] [author_image timthumb='on']https://aspenbloompetcare.com/wp-content/uploads/2015/03/schatzie_me_king_2014_2.jpg[/author_image] [author_info]Kim Bloomer, V.N.D., N.D. is an animal naturopath as well as being certified in small animal nutrition, with years of experience in animal wellness. Dr. Kim is a published author, writer, blogger, host of the DOGgone Truth podcast. Copyright 2019 Aspenbloom Pet Care, Dr. Kim Bloomer, All rights reserved. No part of this article may be reproduced in any form without the written consent of the Author/Publisher. This article is intended to be educational. However, it is not intended to be a substitute for diagnosis or treatment from a qualified animal health professional. Dr. Kim Bloomer and Aspenbloom Pet Care, do not assume any legal responsibility for misuse of any possible products discussed in this article. [/author_info] [/author]