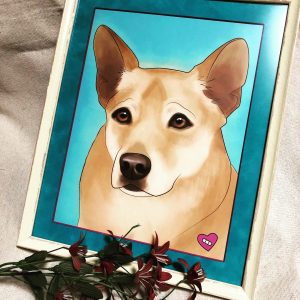 When my beautiful Carolina Dog, Schatzie, passed away I was devastated. Again. Seems with each one passing it gets harder and harder maybe because I'm now long in the tooth myself!
There were those who reached out to help encourage me, such as Sonja on Facebook who created the beautiful graphics I'm using on Schatzie's Memorial Page. I've done several podcasts on her too.
What I have failed to do however is share a post on her passing with the beautiful portrait that my awesome friend, Breanne Altherr had created for me by pet artist, Brittany Farina. Now it's time for me to do something in return for Brittany.
Recently during all of this "pandemic" stuff, Brittany's FB and Instagram accounts were hacked. Apparently FB hasn't helped her recover them at the time of this writing. She had thousands and thousands of followers on both accounts. Something she had built by herself since 2009 as a solopreneur not only doing the art work, but the entire operation of the business on her own. To have built that took so much work and it paid off for her and the rescues she helps with her art.
If you like her work, then please follow her on Instagram and Facebook – you can find the links on her website, BrittanyFarina.com at the bottom of the site. Hopefully soon her accounts will be recovered. It never ceases to amaze me how these people take advantage of others hard work this way rather than using their abilities and talents to do something good in this world. That seems to be all too prevalent these days.
Until next time…
Have a PAWSitively, tail waggin', NATUROPATHICALLY healthy day!
[author] [author_image timthumb='on']https://aspenbloompetcare.com/wp-content/uploads/2015/03/schatzie_me_king_2014_2.jpg[/author_image] [author_info]Kim Bloomer, V.N.D., N.D. is an animal naturopath as well as being certified in small animal nutrition, with years of experience in animal wellness. Dr. Kim is a published author, writer, blogger, host of the DOGgone Truth podcast.  Copyright 2020 Aspenbloom Pet Care, Dr. Kim Bloomer, All rights reserved. No part of this article may be reproduced in any form without the written consent of the Author/Publisher. This article is intended to be educational. However, it is not intended to be a substitute for diagnosis or treatment from a qualified animal health professional. Dr. Kim Bloomer and Aspenbloom Pet Care, do not assume any legal responsibility for misuse of any possible products discussed in this article.  [/author_info] [/author]