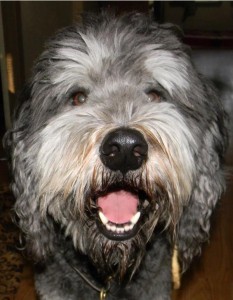 I know I've been missing in action but working on fun things and been real busy with many things which I'll share soon enough. Today I am sharing a short post on the benefits of raw feeding through the visual proof of Ollie's teeth – a now raw fed dog in foster care.
The photos speak for themselves in my opinion. The first photo below shows his teeth after he'd been raw fed for about a week I believe it was. The second photo was after ten weeks.
I have never needed science to prove for me what I can plainly see in the evidence. Dogs are carnivores and when fed accordingly their entire being thrives!
My friend, Erica Christopher, shared these photos on our dog Facebook Group. I LOVE this kind of visible proof.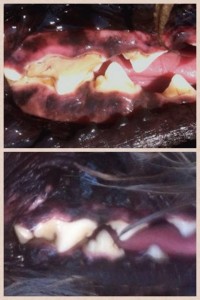 To find out more about this particular dog and his availability you can contact Doodle Rescue Collective. Ollie is a Sheepdog/Labrador mix.
Have a pawsitively tail waggin', NATUROPATHICALLY healthy day!
[author] [author_image timthumb='on']https://aspenbloompetcare.com/wp-content/uploads/2015/03/schatzie_me_king_2014_2.jpg[/author_image] [author_info]Kim Bloomer, V.N.D., N.D. is an animal naturopath as well as being certified in small animal nutrition, with years of experience in animal wellness. Dr. Kim is a published author, writer, blogger, host of the Animal Talk Naturally podcast. Copyright 2018 Aspenbloom Pet Care, Dr. Kim Bloomer, All rights reserved. No part of this article may be reproduced in any form without the written consent of the Author/Publisher. This article is intended to be educational. However, it is not intended to be a substitute for diagnosis or treatment from a qualified animal health professional. Dr. Kim Bloomer and Aspenbloom Pet Care, do not assume any legal responsibility for misuse of the products discussed in this article.[/author_info] [/author]