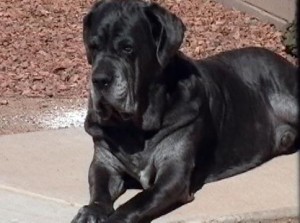 Shadrach
Fridge entered my life gently and sweetly, but Shadrach came slamming into my life with his damaged, abused, neglected young self. My husband fell instantly in love with Shadrach, but I can't say that I did. He was so skinny, smelly, and different than my beautiful Golden Retriever, Fridge. What I didn't know was that this dog, a blue brindle Neapolitan Mastiff, was about to turn my life upside down, and I'd never be the same again. He was an ugly duckling waiting to emerge as the true swan he was, with some love and nurturing.
I am not going to go into detail about Shadrach in this part of my story, because I have written quite a lot about him in my book, Animals Taught Me That. I am going to focus here on what happened as a result of MY interference again. Remember, I had not connected the dots yet with the vaccines.
Shadrach was emotionally shut down when we got him. I had to work on connecting with him. When I did, his beautiful personality emerged, king-sized like him! He was so funny, such a talkative dog, and very opinionated once he realized he could have an opinion – and boy did he ever!
I am sad to say I began his puppy vaccines before he was even totally recovered from his starvation and ill health. He had all sorts of problems, including kidney issues when he came to me. Almost immediately, I dutifully began the vaccine onslaught with him. I also neutered him when he was but barely six months old, which further added to his health issues later in life.
Before I fully understood the ramifications, Shadrach received three rabies vaccines. By the time I stopped vaccinating, his health was in a slow decline, including pancreatitis and eventually diabetes (refer back to the quote by Dr. Jordan on that in Part One). In addition, after contracting kennel cough from a dog buddy of his at the park we visited for his daily dog play dates; he received the kennel cough vaccine every six months for a couple years. Both he and this other dog had been vaccinated for kennel cough, but that sure didn't stop them from getting it – and it couldn't have, as I have since learned.
That only compounded the health challenges he had over the years, which included drug induced pneumonia caused by giving him prescribed antibiotics for a skin ailment for which the veterinarian could not determine the cause. That incident is what definitively decided for me to care for Shadrach only as naturally as possible. It is what caused me to begin to research and learn. It is why I decided to go back to school to get my degrees in both human naturopathy and animal naturopathy. It is why I do what I do now.
I felt that the abuse Shadrach suffered at that emergency veterinary clinic was the last time he would suffer any abuse at the hands of humans. He'd suffered it before coming to us, in my care with the vaccine and pharmaceutical drugs, as well as at the vet clinic. I was DONE allowing it. I let go of my fears, my former training, and decided to actually learn the truth and what I could do better.
I know this is why Shadrach came into my life. His life did make a difference. I began blogging in "first dog" as if I were him. The funny thing is that as a result, so many people paid attention. They began feeding raw food and stopped the vaccines and drugs. They began a whole health program for their dogs. Not everyone mind you, but when Shadrach passed away I had an outpouring of love from around the world. Until then, I didn't know that he had made that kind of impact. I am so grateful that his life mattered so much to others as it did to me. Even though he wasn't wholly healthy, in spite of the early abuse, neglect and all of the chemicals he lived to be nearly twelve years old. Regardless of my former training, what the vets said, or even what felt convenient to me, we woke up and decided to stop doing the same things that weren't working. We decided to take ourselves out of the equation, and do what Shadrach needed to have as much quality of life as possible. He was never subjected to any drugs or medications ever again in his life. No, not even for the diabetes as we managed that naturally with the right nutrition, supplements, and natural remedies. It wasn't extravagant or like a pharmacy either. It was minimal and manageable.
On the last day of his life, he went for his normal walk. Granted, he walked slower by then, and had to wear a sweater because he got cold. He went naturally at home, after his morning walk and his late breakfast. His health had rapidly declined over the previous couple of months. After his last chiropractic adjustment (he had been in regular care for a couple of years), I knew it wouldn't be long. I was hoping he'd just go in his sleep, but he went during the day while relaxing in his big couch. We were with him. He reached out his paw to me as I lay beside him petting him. He looked me in my eyes, and then he looked to Donnie. He took a couple of deep breaths, and he was gone.
I will never forget this most magnificent dog. He changed my life and everything in it, including my viewpoints on human health. My health is better than it was in my thirties. I know it is because of all I learned from my life with Shadrach.
I was about to learn some more lessons soon. Had I known, I would have chosen to pass them by altogether.
A Tale of Three Dogs, Part One: Fridge
A Tale of Three Dogs, Part Three: Meshach
Until next time,
Have a pawsitively tail waggin', NATURAL IMMUNITY, healthy day!
About the Author:
Copyright 2015 Aspenbloom, Dr. Kim Bloomer, All rights reserved. No part of this article may be reproduced in any form without the written consent of the Author/Publisher. This article is intended to be educational. However, it is not intended to be a substitute for diagnosis or treatment from a qualified animal health professional. Dr. Kim Bloomer and Aspenbloom Pet Care, do not assume any legal responsibility for misuse of any products that may have been discussed in this article.
[author] [author_image timthumb='on']https://aspenbloompetcare.com/wp-content/uploads/2015/03/schatzie_me_king_2014_2.jpg[/author_image] [author_info]Kim Bloomer, V.N.D., N.D. is an animal naturopath as well as being certified in small animal nutrition, with years of experience in animal wellness. Dr. Kim is a published author, writer, blogger, host of the Animal Talk Naturally podcast. Copyright 2018 Aspenbloom Pet Care, Dr. Kim Bloomer, All rights reserved. No part of this article may be reproduced in any form without the written consent of the Author/Publisher. This article is intended to be educational. However, it is not intended to be a substitute for diagnosis or treatment from a qualified animal health professional. Dr. Kim Bloomer and Aspenbloom Pet Care, do not assume any legal responsibility for misuse of the products discussed in this article.[/author_info] [/author]