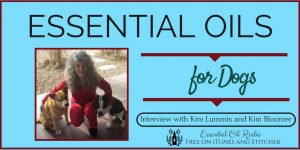 Recently I was privileged to be asked to join my friend, Kim Lummis (dog trainer) on a podcast with host Samantha Wright titled "Revolution Oils". Kim and I spoke about what we know best – DOGS of course!
The topic was how to use essential oils with dogs. So if you'd like to go listen in to the 46 minute show use this link: http://www.revolutionoils.com/essential-oils-for-dogs/
Here is what Samantha put on the show information…
In this Episode You'll Discover:
*How does a canine's nose interact with essential oils differently than ours.
*What are some important safety precautions to be aware of when using oils on pets.
*What are the most popular oils to use on dogs for anxiety, stress, and overall health.
*How to use oils for dogs in training.
You can also simply listen to the show right here:

Enjoy!
Until next time…
Have a pawsitively tail waggin', NATUROPATHICALLY healthy day!
[author] [author_image timthumb='on']https://aspenbloompetcare.com/wp-content/uploads/2015/03/schatzie_me_king_2014_2.jpg[/author_image] [author_info]Kim Bloomer, V.N.D., N.D. is an animal naturopath as well as being certified in small animal nutrition, with years of experience in animal wellness. Dr. Kim is a published author, writer, blogger, host of the Animal Talk Naturally podcast. Copyright 2018 Aspenbloom Pet Care, Dr. Kim Bloomer, All rights reserved. No part of this article may be reproduced in any form without the written consent of the Author/Publisher. This article is intended to be educational. However, it is not intended to be a substitute for diagnosis or treatment from a qualified animal health professional. Dr. Kim Bloomer and Aspenbloom Pet Care, do not assume any legal responsibility for misuse of the products discussed in this article.[/author_info] [/author]