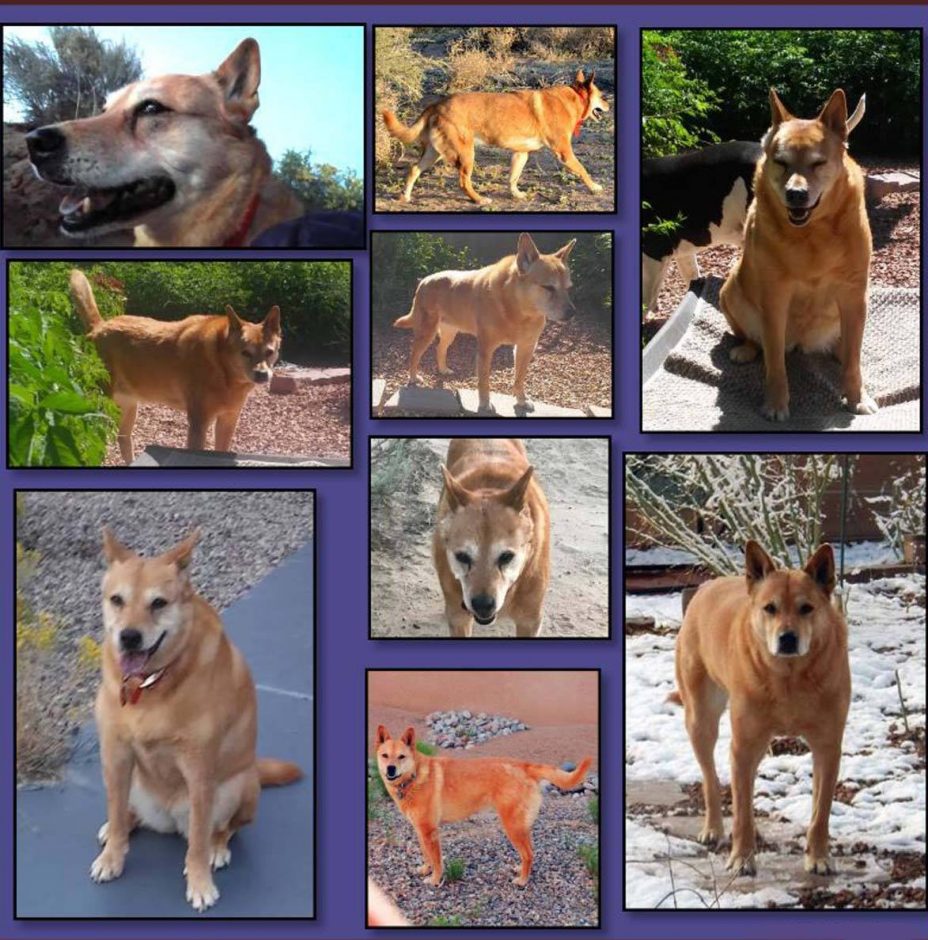 Schatzie girl, my beautiful Carolina Dog aka girl girl, my Beauty Queen, Running Wolf, my Pretty Girl, my June Bug has left us for her heavenly home.
On January 10, 2019 she left us at approximately 2PM in the afternoon. I want to thank all of you who have already commented on my business page – it has meant so much to us.
She arrived on a very hot summer June morning and left us on a cold January afternoon. Our hearts are broken – Donnie, King and I. King is having a very hard time with missing her but I am helping him to the best of my ability to grieve her loss. We have promised him one day God will send another companion for him to grace our home.
Schatzie's absence is so greatly felt and yet she walked so lightly upon this earth that if I didn't feel the deep void in our home and the deep paw prints she left upon my heart I don't think we'd even know she'd been here.
She wasn't a dog that played with toys. When she first came here it was like we had a wolf living with us. She was so quiet, but she was a fast learner and learned all the "noise" from King!
I won't go into details here but I will on my podcast this coming Tuesday if you care to listen in. My hope is that it will help others and to also encourage those of you also going through your own loss.
Schatzie was the BEST girlfriend I've had in my adult years. I don't say that to offend any of my current friends, but let's face it – she lived with me and she still loved me!
She did so many things to help me grow and stretch. I'm only now beginning to realize just how much she really impacted my life. Her biggest legacy to me was how much she modeled our Savior to me.
Thank you Beauty Queen, you're forever so deeply imprinted upon my heart I sometimes wonder how I'll go forward without you – but I must so your legacy is delivered and shared. I love you with all my heart girl girl and I am SO grateful I got to have you in my life for the short 5 1/2 years you were with us. Thank you my darling girl, I love you always and forever – as do Daddy and King. You left a huge void my sweet, beautiful girl girl.
Schatzie – 2006? – January 10, 2019. GODSPEED my sweetheart!
PS Thank you to those of you, my friends, who were with me through this. I love you each so much. You know who you are.
We can exchange all of our heartache and hurt and be grateful we had them at all. And receive ALL they gave us and taught us. That's how I'm moving forward this time Sherrill. I'm comforted by the fact she DID fulfill her purpose and that she isn't suffering now. I've never been able to do this before so I'm just so grateful to God for showing me she is well and with Him, and that I'm to move forward with all she gave and taught me. I miss her so much and that won't change. I'll always miss her, but I will honor her by continuing with her legacy. ~Dr. Kim Bloomer
[author] [author_image timthumb='on']https://aspenbloompetcare.com/wp-content/uploads/2015/03/schatzie_me_king_2014_2.jpg[/author_image] [author_info]Kim Bloomer, V.N.D., N.D. is an animal naturopath as well as being certified in small animal nutrition, with years of experience in animal wellness. Dr. Kim is a published author, writer, blogger, host of the DOGgone Truth podcast. Her dog wellness course can be found at DOGgone Truth Copyright 2020 Aspenbloom Pet Care, Dr. Kim Bloomer, All rights reserved. No part of this article may be reproduced in any form without the written consent of the Author/Publisher. This article is intended to be educational. However, it is not intended to be a substitute for diagnosis or treatment from a qualified animal health professional. Dr. Kim Bloomer and Aspenbloom Pet Care, do not assume any legal responsibility for misuse of any possible products discussed in this article. [/author_info] [/author]